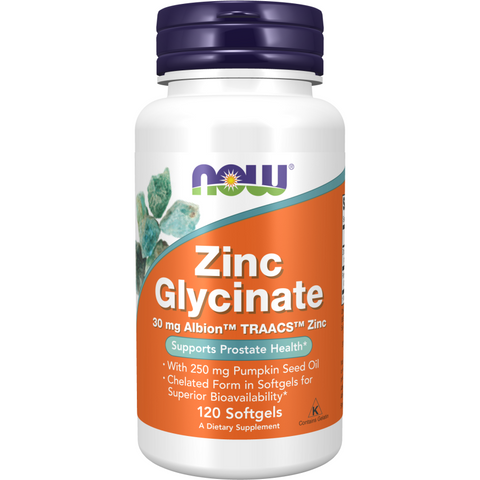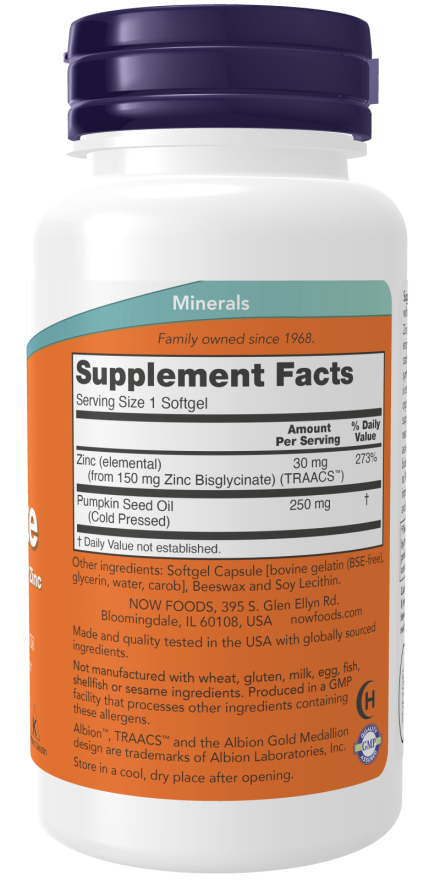 Now Foods
Zinc Glycinate 30mg - Now Foods (120 Softgels)
Description 
Now Foods Zinc Glycinate 30mg provides a highly bioavailable form of zinc, an essential mineral that plays a crucial role in supporting overall health and well-being. Each soft gel offers convenient zinc supplementation to promote immune function, support healthy growth and development, and maintain optimal cellular processes. Elevate your wellness routine with Now Foods Zinc Glycinate 30mg.
Key Benefits:

Immune System Support: Zinc Glycinate boosts and strengthens the immune system.
Cellular Health: Supports healthy cellular processes and functions.

Antioxidant Defense: Helps protect cells from oxidative damage.

Healthy Growth and Development: Essential for proper growth and development.

Cognitive Function: Supports brain health, memory, and focus.

Skin Health: Promotes healthy skin and wound healing.

Convenient Softgels: Easy-to-swallow soft gels for hassle-free supplementation.


Elevate your wellness routine with Now Foods Zinc Glycinate 30mg. Order now and support your overall health and well-being. As with any supplement, consult with a healthcare professional before starting a new supplementation regimen.
Legal Disclaimer 
The information provided on this website and in our product descriptions is for informational purposes only and should not be considered medical advice. Our products have not been evaluated by the FDA and are not intended to diagnose, treat, cure, or prevent any disease. Individual results may vary. Always consult a healthcare professional before using any supplements, especially if you have allergies or medical conditions. Use our products at your own risk, and discontinue use if you experience any adverse reactions. By using our website or products, you agree that ASN USA is not liable for any damages or losses. We reserve the right to update information without prior notice.