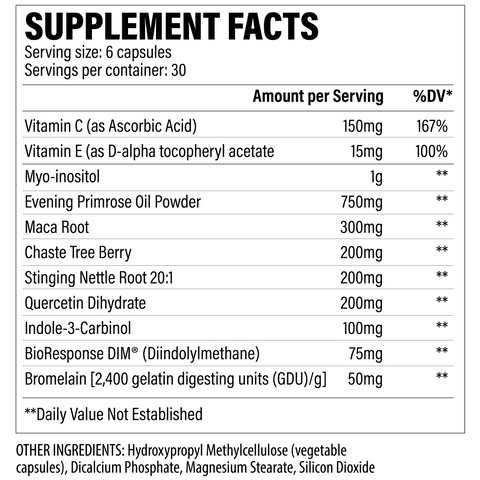 Revive MD
Women's Health - Revive MD
Description 
Revive MD Women's Health is designed to provide comprehensive support for women's well-being, addressing hormone balance, fertility, skin health, energy levels, and more. By nourishing your body with high-quality ingredients, this supplement helps support your unique health needs and promotes a balanced and vibrant lifestyle.
Prioritize your well-being with Revive MD Women's Health, and experience the benefits of targeted support for women's specific health concerns. Incorporate this premium supplement into your daily routine to nourish and support your overall health and enjoy the vitality and balance you deserve.
Key Ingredients and Benefits:
Myo-Inositol (1g): Known for supporting hormone balance, Myo-inositol may help regulate menstrual cycles and support fertility in women.
Evening Primrose Oil (750mg): Rich in essential fatty acids, evening primrose oil supports hormonal balance and promotes healthy skin, hair, and nails.
Maca Root (300mg): Maca root has traditionally been used to support energy, stamina, and hormonal balance in women.
Chaste Tree Berry (200mg): Also known as Vitex, chaste tree berry supports hormone balance and may help alleviate common premenstrual symptoms.
Stinging Nettle Root 20:1 (200mg): Stinging nettle root is commonly used to support urinary tract health and may help with hormonal imbalances.
Quercetin (200mg): Quercetin is a natural flavonoid with antioxidant properties that may help reduce inflammation and support immune function.
Indole-3-Carbinol (100mg): Indole-3-carbinol supports healthy estrogen metabolism and promotes hormonal balance.
DIM (75mg): DIM supports estrogen metabolism and hormonal balance, helping to promote overall well-being in women.
Bromelain (50mg): Derived from pineapple, bromelain supports healthy digestion and may help reduce inflammation.
Legal Disclaimer 
The information provided on this website and in our product descriptions is for informational purposes only and should not be considered medical advice. Our products have not been evaluated by the FDA and are not intended to diagnose, treat, cure, or prevent any disease. Individual results may vary. Always consult a healthcare professional before using any supplements, especially if you have allergies or medical conditions. Use our products at your own risk, and discontinue use if you experience any adverse reactions. By using our website or products, you agree that ASN USA is not liable for any damages or losses. We reserve the right to update information without prior notice.