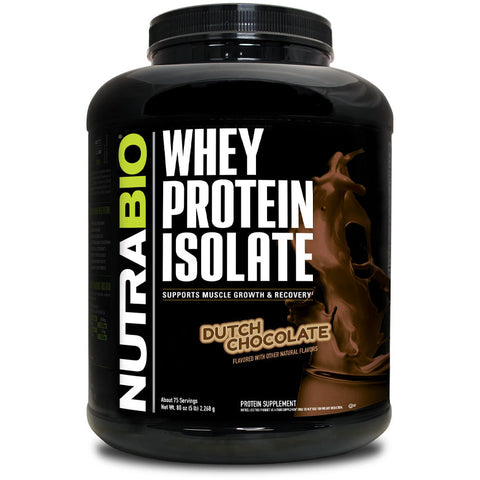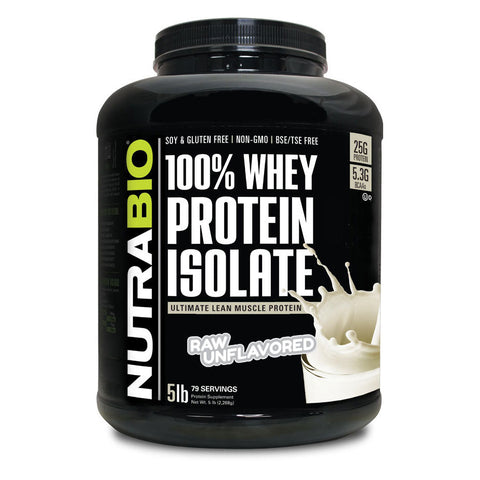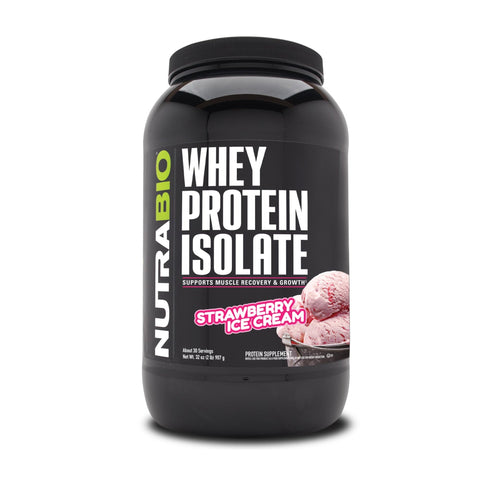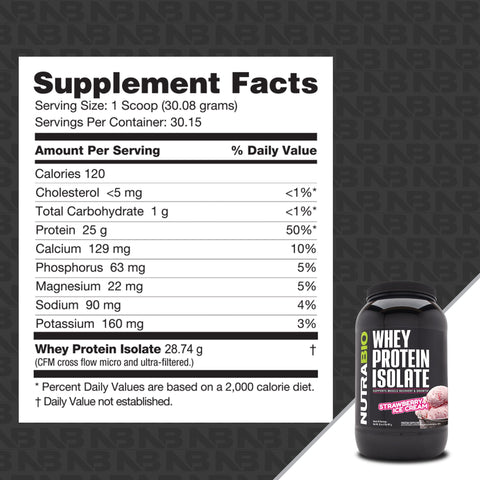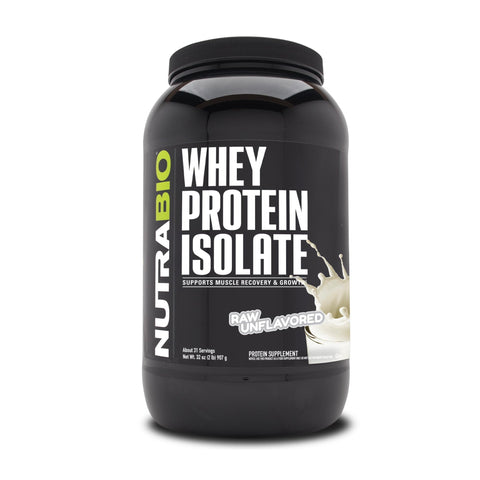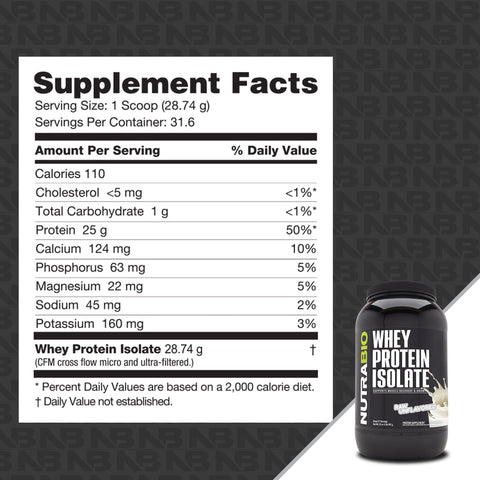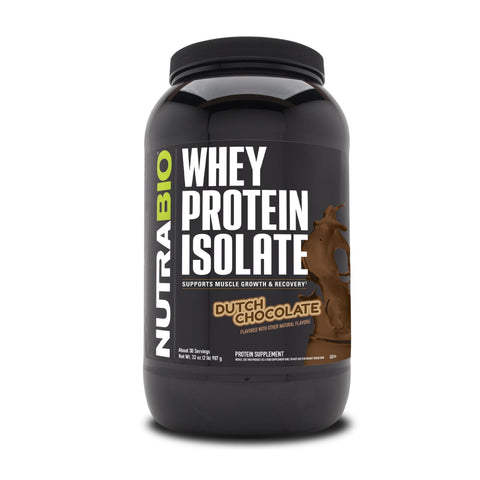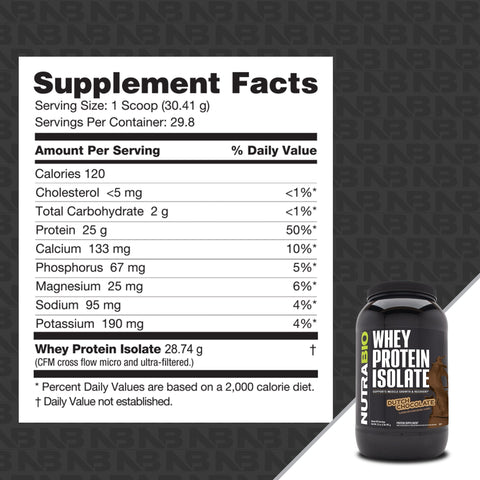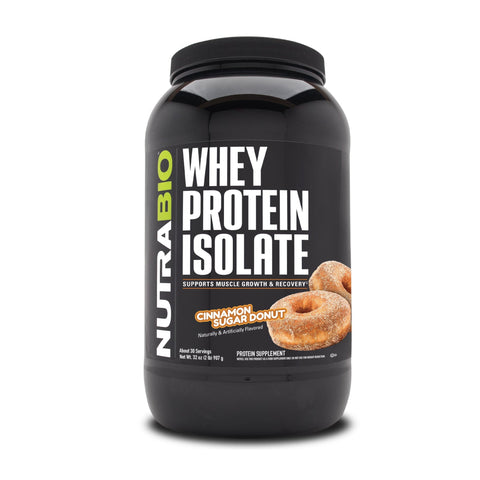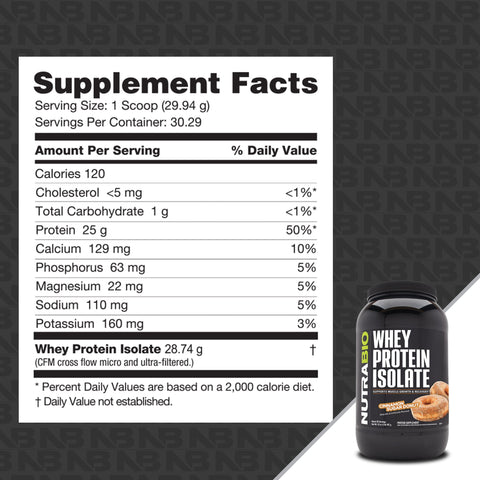 Nutrabio
Whey Protein Isolate - Nutrabio
$39.99
$49.99
you save $10.00
Why Choose NutraBio Whey Protein Isolate?


Muscle Growth: When it comes to muscle growth and recovery, protein is an essential macronutrient. NutraBio Whey Protein Isolate stands out as the most beneficial and fast-digesting form of protein. With a purity level of 90% pure protein, NutraBio's Whey Protein Isolate is easily digested and absorbed by the body, promoting rapid muscle recovery and growth. The high level of purity is achieved through a cold cross-flow micro- and ultra-filtration process that filters out larger, less-absorbable protein molecules, as well as fat and lactose. This gentle process preserves the valuable proteins and peptides in whey, ensuring a higher quality protein that further enhances muscle growth.
Muscle Recovery: Studies suggest that consuming fast-acting protein sources, like NutraBio Whey Isolates, can elevate amino acid levels in circulation and stimulate significant increases in protein synthesis. This makes protein synthesis a crucial factor in muscle recovery and growth. Additionally, NutraBio Whey Protein Isolates are generally low in carbs, lactose-free, fat-free, cholesterol-free, and gluten-free, making it an excellent choice for low-carb dieters, lactose intolerant individuals, or athletes.
Full Transparency: NutraBio's 100% Whey Protein Isolate is produced in their own GMP-certified and FDA-inspected facility, setting it apart from 99.9% of their competitors. With total control over the entire process, from start to finish, NutraBio ensures the highest level of quality and transparency for their product.

Impressive Nutritional Profile: NutraBio 100% Whey Protein Isolate boasts an exceptional nutritional profile with a biological value of 159, protein digestibility of 95, protein efficiency ratio of 3.6, net protein utilization of 92, and a perfect 1.0 PDCAAS (Protein Digestibility Corrected Amino Acid Score). This level of detail and quality sets NutraBio apart from others in the market, showing their commitment to transparency and superior products. When choosing a protein powder, it's essential to consider not only its effectiveness but also its purity and transparency. With NutraBio's 100% Whey Protein Isolate, you can be confident that you are selecting a high-quality protein supplement to support your muscle growth, recovery, and overall fitness goals.
Legal Disclaimer 
The information provided on this website and in our product descriptions is for informational purposes only and should not be considered medical advice. Our products have not been evaluated by the FDA and are not intended to diagnose, treat, cure, or prevent any disease. Individual results may vary. Always consult a healthcare professional before using any supplements, especially if you have allergies or medical conditions. Use our products at your own risk, and discontinue use if you experience any adverse reactions. By using our website or products, you agree that ASN USA is not liable for any damages or losses. We reserve the right to update information without prior notice.