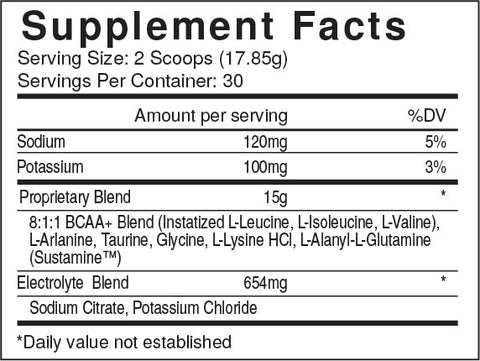 Hi Tech Pharmaceuticals
BCAA Supreme - USP LABS (30 servs)
Description 
Touted as the best BCAA on the market BCAA Supreme™— this amazing formula gives you 15 grams of powerful amino acids per serving. No other supplement is designed like this one. Perfect for bodybuilders and athletes. May help support strength, endurance, and performance. Formulated with electrolytes and patented with L-alanyl-L-glutamine. An exclusive 8:1:1 leucine, isoleucine, valine BCAA ratio, and a unique no-caffeine, ultra-micronized formula defies every other BCAA supplement in the market.
Essential amino acids are those that cannot be synthesized by the body and must therefore be supplied in the foods and supplements we consume. Of all EAAs, the branched-chain amino acids — leucine, isoleucine, and valine — have received the most attention as bodybuilding supplements because they make up approximately one-third of muscle protein. They are released from skeletal muscle and catabolized (broken down) during exercise and in cases of injury to be used for energy and tissue repair. 
May Help Support  
Muscle Growth*
Muscle Recovery*
Decreased Muscle Soreness*
Prevent Muscle Breakdown*
The information provided on this website and in our product descriptions is for informational purposes only and should not be considered medical advice. Our products have not been evaluated by the FDA and are not intended to diagnose, treat, cure, or prevent any disease. Individual results may vary. Always consult a healthcare professional before using any supplements, especially if you have allergies or medical conditions. Use our products at your own risk, and discontinue use if you experience any adverse reactions. By using our website or products, you agree that ASN USA is not liable for any damages or losses. We reserve the right to update information without prior notice.