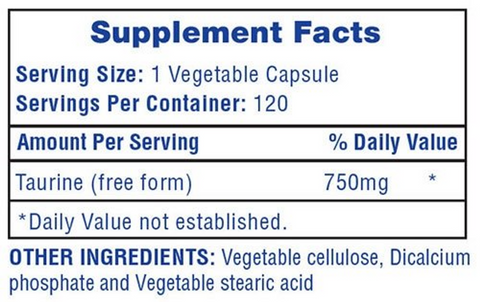 Hi Tech Pharmaceuticals
Taurine 750m - Hi Tech Pharmaceuticals (120 Caps)
Hi-Tech Pharmaceuticals Taurine 750
Taurine is one of the great compounds to improve not only your nervous system, but heart health as well. For anyone that is interested in staying healthy, Taurine 750 can be a great product for you. It doesn't stop there. Taurine is a favorite among bodybuilders as well as it helps muscle perform more efficiently. It can also help with muscle fatigue, allowing you to lift longer and stay at the gym for prolonged periods of time without being as tired as without it. Lastly, it helps the contractions of muscles, allowing you to get more out of each excerise rep!
Benefits of Taurine 750
Stronger Muscle Contractions
Decreased Fatigue
Improved Nervous System
Supports Heart Health
For those that take prohormones, some customers love Taurine for the ability to help with back pumps that can sometimes happen with prohormone use.
Directions & Dosage
Hi-Tech Pharmaceuticals recommends that you take 1-2 tablets per day.