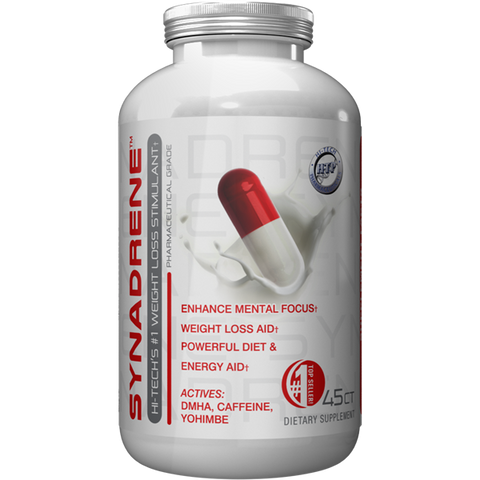 Hi Tech Pharmaceuticals
Synadrene - Hi Tech Pharmaceuticals (45 ct)
$39.95
$39.99
you save $0.04
Description
Hi-Tech Pharmaceuticals Synadrene | DMHA Powered Weight Loss Aid
The team at Hi-Tech Pharmaceuticals was very familiar with one of the most popular supplements that ever hit sports nutrition. And after it was pulled from the shelves, they decided to reverse engineer it to not only bring it back but to make it better than ever before. This final formula was called Synadrene. Hi-Tech combined the power of DMHA with other cutting-edge ingredients to create the most advanced weight loss supplement the industry has ever seen. Hi-Tech asks why you should settle for "New and Marginal" when you can have "New and Improved!"
Benefits & Results
Improved Weight Loss
Increased All Day Energy
Appetite Suppression
Mood-Boosting
Most Powerful Fat Loss Aid Since the 1990s
If you trained back in the 90's and 2000's you knew what you wanted. But because that is no longer available, Hi-Tech Pharmaceuticals needed to release something just as strong...actually stronger. They released the DMHA/Caffeine stack!
Directions & Dosage
Hi-Tech Pharmaceuticals recommends that you take 1 capsule 3 times per day. You should never exceed more than 4 capsules in one day. This can be taken by both men and women.
Warnings & Side Effects
These statements have not been evaluated by the Food and Drug Administration. This product is not intended to treat, cure, diagnose, or prevent any disease. This product should not be used in place of or as a substitute for recommendations by your healthcare professional. WARNING: NOT FOR USE BY INDIVIDUALS UNDER THE AGE OF 18 YEARS. DO NOT USE IF YOU ARE PREGNANT OR NURSING. THIS PRODUCT CAN RAISE BLOOD PRESSURE AND INTERFERE WITH OTHER DRUGS YOU MAY BE TAKING. TALK TO YOUR DOCTOR ABOUT THIS PRODUCT. INDIVIDUALS WHO CONSUME CAFFEINE WITH THIS PRODUCT MAY EXPERIENCE SERIOUS ADVERSE HEALTH EFFECTS. INDIVIDUALS WHO ARE SENSITIVE TO THE EFFECTS OF CAFFEINE SHOULD CONSULT A LICENSED HEALTH CARE PROFESSIONAL BEFORE CONSUMING THIS PRODUCT. INDIVIDUALS WHO ARE SENSITIVE TO THE EFFECTS OF CAFFEINE SHOULD CONSULT A DOCTOR BEFORE CONSUMING THIS PRODUCT. DO NOT CONSUME SYNEPHRINE OR CAFFEINE FROM OTHER SOURCES, INCLUDING BUT NOT LIMITED TO, COFFEE, TEA, SODA OR OTHER DIETARY PRODUCTS OR
MEDICATIONS CONTAINING CAFFEINE OR PHENYLEPHRINE. DO NOT USE FOR MORE THAN 8 WEEKS. CONSULT WITH YOUR PHYSICIAN PRIOR TO USE IF YOU ARE TAKING MEDICATION, INCLUDING BUT NOT LIMITED TO MAOI INHIBITORS, ASPIRIN, ANTIDEPRESSANTS, NONSTEROIDAL ANTI-INFLAMMATORY DRUGS OR PRODUCTS CONTAINING PHYLEPHRINE, EPHEDRINE, PSEUDOEPHEDRINE, OR OTHER STIMULANTS. CONSULT YOUR PHYSICIAN PRIOR TO USE IF YOU HAVE A MEDICAL CONDITION, INCLUDING BUT NOT LIMITED TO, HEART, LIVER, KIDNEY, OR THYROID DISEASE, PSYCHIATRIC OR EPILEPTIC DISORDERS, DIFFICULTY URINATING, DIABETES, HIGH BLOOD PRESSURE, CARDIAC ARRHYTHMIA, RECURRENT HEADACHES, ENLARGED PROSTATE OR GLAUCOMA. DISCONTINUE 2 WEEKS PRIOR TO SURGERY OR IF YOU EXPERIENCE RAPID HEART BEAT, DIZZINESS, SEVERE HEADACHE OR SHORTNESS OF BREATH. IN CASE OF ACCIDENTAL OVERDOSE, SEEK PROFESSIONAL ASSISTANCE OR CONTACT A POISON CONTROL CENTER IMMEDIATELY. AVOID ALCOHOL WHILE TAKING THIS PRODUCT. EXCEEDING
RECOMMENDED SERVING MAY CAUSE SERIOUS ADVERSE HEALTH EFFECTS, INCLUDING HEART ATTACK AND STROKE. IMPROPER USE OF THIS PRODUCT MAY BE HAZARDOUS TO A PERSON'S HEALTH.
TO REPORT ADVERSE EFFECTS CALL FDA'S MEDWATCH AT 1-800-332-1088