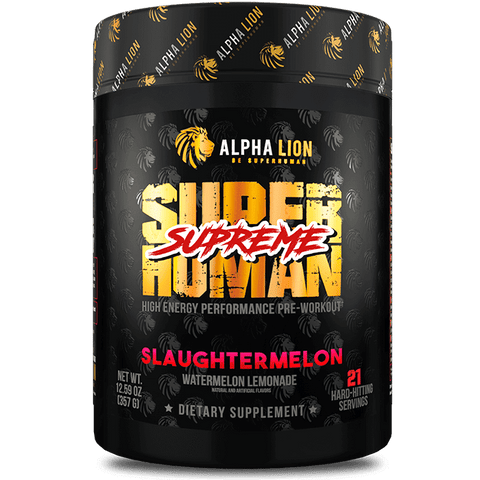 Alpha Lion
Superhuman® SUPREME - Alpha Lion (21 srvs)
$42.99
$49.99
you save $7.00
Description 

Unleash your inner superhero and take your workouts to new heights with Superhuman® SUPREME by Alpha Lion. This advanced pre-workout formula is designed to provide you with the energy, focus, and endurance you need to crush your fitness goals. Get ready to experience an explosive and supercharged training session like never before.
Key Benefits:
Intense Energy Boost: Each serving of Superhuman® SUPREME delivers  300mg of Caffeine Anhydrous, providing you with an surge of energy to power through your workouts with maximum intensity.
Enhanced Focus and Mental Clarity: The combination of Caffeine Anhydrous and 150mg of Theanine may help support your mental focus, promote alertness, and improve cognitive function, allowing you to stay in the zone during your training.
Increased Endurance: With 7g of L-citrulline malate, this pre-workout supplement may help support nitric oxide production, promoting improved blood flow, reduced fatigue, and enhanced endurance, so you can push through those extra reps and sets.
Amplified Performance: Superhuman® SUPREME includes Di-caffeine Malate, which combines caffeine with malic acid for a sustained release of energy.
Potent Juniper Berry Extract: With 200mg of Juniper Berry Extract, this pre-workout provides antioxidant support, that may help support your cells from oxidative stress and promoting overall health.
Incredible Taste: Enjoy the mouthwatering flavors of Superhuman® SUPREME that make each sip a delightful experience, making your pre-workout routine even more enjoyable.
Legal Disclaimer These statements have not yet been evaluated by the United States Food and Drug Administration. This product is not intended to diagnose, treat, cure, or prevent any disease. Statements regarding dietary supplements have not been evaluated by the FDA and are not intended to diagnose, treat, cure, or prevent any disease or health condition.