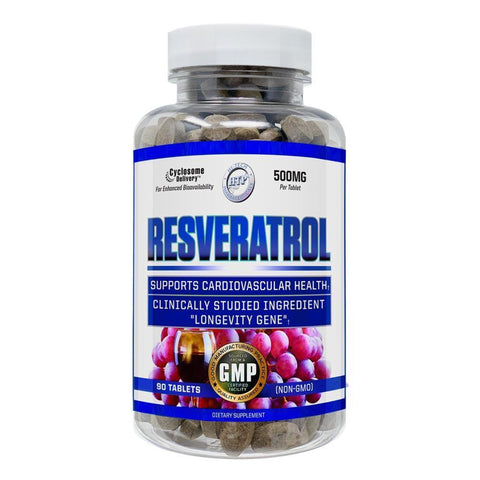 Hi Tech Pharmaceuticals
Resveratrol 500mg -Hi-Tech Pharmaceuticals (90 Tabs)
$25.95
$39.95
you save $14.00
Hi-Tech Pharmaceuticals Resveratrol 500mg 90t | Heart Health Support Supplement
 Resveratrol may be one of the most heart-healthy ingredients that you haven't even heard of yet! Hi-Tech Pharmaceuticals sources resveratrol from different kinds of grapes, promoting heart health, boosting antioxidants, and also know to lower blood pressure. If you're looking for a heart healthy supplement, try Hi-tech Pharmaceuticals Resveratrol today!
Hi-Tech Pharmaceuticals Resveratrol Benefits
Contains Clinically Studied and Dosed Ingredients
Helps Improve Cardiovascular Health
Contains Antioxidants
Helps Lower Blood Pressure
How to Take Hi-Tech Pharmaceuticals Resveratrol
Take 1-2 tablets daily.
Hi-Tech Pharmaceuticals Resveratrol Warnings
For adults only. Resveratrol may interact with many pharmaceutical medications (especially NSAIDs including diclofenac). Consult physician if pregnant/ nursing, taking medication, or have a medical condition before using this product.

This product may cause digestive upset in some sensitive individuals. If you experience any gastrointestinal discomfort after using this product, discontinue use, Keep out of reach of children.
References
Bonnefont-Rousselot D. Resveratrol and Cardiovascular Diseases. Nutrients. 2016;8(5):250. Published 2016 May 2. doi:10.3390/nu8050250