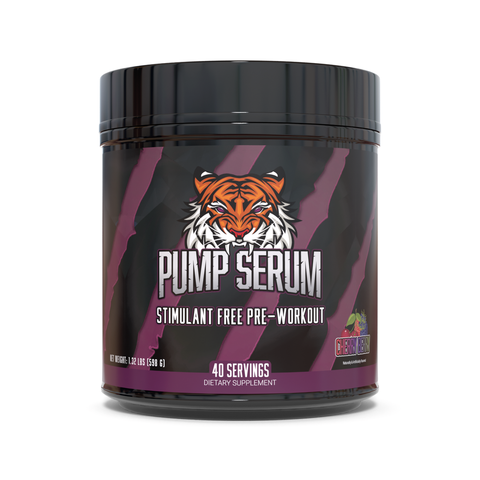 Huge Supplements
Pump Serum -Huge Supplements (40 srvs)
$54.95
$64.95
you save $10.00
Description 
When that monumental muscle pump surges through your veins at the gym, it's like an electrifying bolt of power – you're not just lifting weights; you're commanding them. It's an exhilarating push beyond your limits, a relentless quest for dominance. Your veins resemble lightning bolts, and every rep feels like an explosive conquest. In that moment, you're not just working out; you're defying gravity and asserting your supremacy in the temple of iron. The pump is your battle cry, your badge of honor, and your declaration that you're unapologetically pushing your strength and physique to new heights. It's daring, it's exhilarating, and it's the essence of a relentless warrior of the gym.
Introducing Huge Supplements Pump Serum: Meticulously crafted to unlock your full workout potential, Pump Serum is engineered to optimize nitric oxide production, promote vasodilation, and sharpen mental focus. With a lineup of 13 potent ingredients, each meticulously researched and working in synergy, this formula enhances nitric oxide production, flooding your muscles with vital nutrients and oxygen precisely when they need it most.
Experience the Transformation:
MASSIVE Muscle Pumps: Prepare for skin-tearing muscle pumps and incredible fullness that will leave you awe-struck.

Crystal Clear Mental Focus: Achieve heightened mental focus and concentration, locking you in and keeping you driven throughout your workout.

Stimulant-Free: For those who prefer the energy and performance boost without the jitters or stimulant-induced effects, Pump Serum is your ideal choice.

Boosted Workout Capacity: Elevate your workouts, expand your workout capacity, and witness remarkable vascularity that speaks volumes.
Directions for Use: To maximize your workout potential, mix one (1) to two (2) scoops of Pump Serum with 8 to 12 fl oz of water approximately 30 minutes before your workout. Watch your muscle pumps, focus, and performance reach new heights.
Huge Supplements Pump Serum - the key to an extraordinary gym experience. Elevate your workouts and redefine your limits. Unleash your inner gym warrior with Pump Serum.
FAQ
HOW CAN I USE PUMP SERUM?
Mix one (1) to two (2) scoop(s) of Pump Serum with 8 to 12 fl oz of water and take it about 30 minutes before your workout to optimize muscle pumps, focus, and performance.
CAN I STACK PUMP SERUM?
You can stack Pump Serum with any Pre-workout to give it more of a kick. 
HOW MANY CALORIES DOES PUMP SERUM HAVE?
There are approximately 8 calories per scoop of Pump Serum.
DOES PUMP SERUM CONTAIN CAFFEINE OR OTHER STIMULANTS?
Pump Serum does not contain caffeine or any other type of stimulant. It is a 100% stimulant-free pre-workout, meaning you can take it at any time of the day without issues.
WHY ARE THERE CLUMPS IN MY PRODUCT?
Clumps in pre-workouts are very common. Some pump ingredients, such as GlycerPump™ (Glycerol powder), are known as hygroscopic ingredients, meaning they attract and hold water. That's why you may experience some clumping. However, you should know that clumping is completely normal, and the product is still usable and does not lose potency. The clumps will dissolve when mixed with water or other liquid.