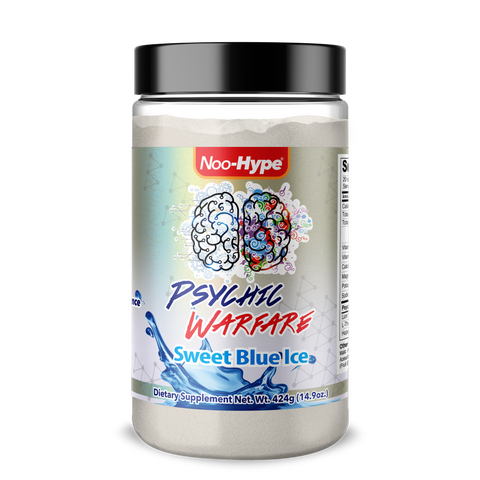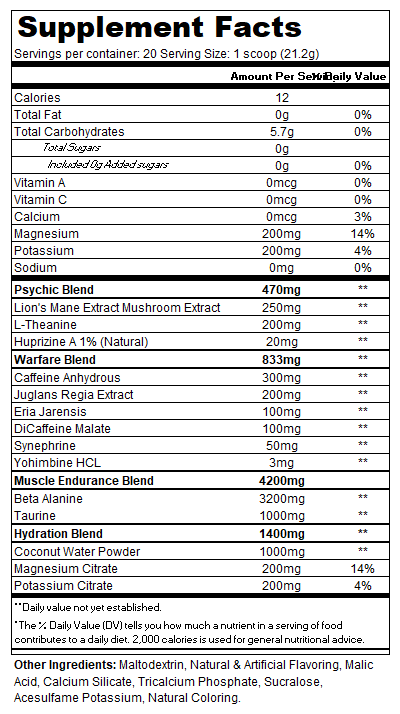 Noo-Hype
Psychic Warefare - Noo Hype (20 Serv)
Description
Unlock your inner potential with Psychic Warfare, a powerful pre-workout supplement that aims to provide you with heightened mental clarity and energy. By combining carefully selected ingredients, we have crafted a formula designed to support your well-being and athletic performance without making any specific claims.


Psychic Warfare may contribute to:


Enhanced mental focus and clarity, helping you tackle personal obstacles with greater confidence.
Increased energy levels, aiding you in powering through intense workouts and daily tasks.
Improved overall mood and emotional well-being, promoting a positive outlook on life.
Enhanced athletic performance and endurance, supporting you in reaching your fitness goals.
Support for fat loss and appetite suppression, potentially contributing to a more toned physique.

Some key ingredients in Psychic Warfare include:


Caffeine Anhydrous and Juglans Regia Extract: Believed to offer increased energy and focus.
Lion's Mane Mushroom Extract and Huperzine A: Thought to promote enhanced cognitive function and mental clarity.
L-Theanine and Eria Jarensis: Potentially contributing to reduced stress and improved mood.
Beta-Alanine, Taurine, and Coconut Water Powder: Considered to support enhanced athletic performance and endurance.
Synephrine and Yohimbine HCL: May be linked to promoting fat loss and appetite suppression.

Give Psychic Warfare a try and see how it can complement your fitness journey, but remember to always consult with a healthcare professional before starting any new supplement regimen.
The information provided on this website and in our product descriptions is for informational purposes only and should not be considered medical advice. Our products have not been evaluated by the FDA and are not intended to diagnose, treat, cure, or prevent any disease. Individual results may vary. Always consult a healthcare professional before using any supplements, especially if you have allergies or medical conditions. Use our products at your own risk, and discontinue use if you experience any adverse reactions. By using our website or products, you agree that ASN USA is not liable for any damages or losses. We reserve the right to update information without prior notice.