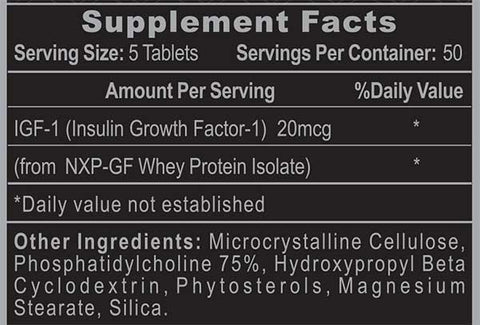 Hi Tech Pharmaceuticals
Pro IGF -Hi Tech Pharmaceuticals (250 tabs)
$104.95
$109.99
you save $5.04
Description 
This is the premier product for serious bodybuilders and athletes - Over 1000% more IGF-1 than Deer Antler and other IGF products! This product has been used by both bodybuilders and professional athletes providing support during extreme exercise or athletic events. Pro-IGF-1™ contains a concentrated source of the growth factor matrix and co-factors extracted from a proprietary whey protein and aids recovery and supports the various metabolic processes that occur in the body at the cell level.
Key Benefits 
May help support regulate fat for use as energy, resulting in fat loss.
May help support to anti-aging. As we get older, IGF-1 production slows down and this results in cell reduction. Low levels of IGF-1 are linked to heart failure, lower brain cell regulation, and neuron function. Not to mention muscle tissue breakdown.
May help support a increase nutrient shuttling (protein synthesis).
May help increases the regenerative functions of nerve tissues.
May help boosts the ability to cause hyperplasia in muscle cells resulting in fuller muscle tissue.
Hi-Tech Pharmaceuticals Pro IGF-1 Side Effects
Store in a cool, dry place after opening. For adults only. Consult physician if pregnant/nursing, taking medication or have a medical condition. Keep out of reach of children.
Tamper Evident - Do not use if printed seal is cut, torn or missing.
References
Rasmussen MH, Hvidberg A, Juul A, Main KM, Gotfredsen A, Skakkebaek NE, Hilsted J, Skakkebae NE.- Massive weight loss restores 24-hour growth hormone release profiles and serum insulin-like growth factor-I levels in obese subjects.

https://www.ncbi.nlm.nih.gov/pubmed/7536210
The information provided on this website and in our product descriptions is for informational purposes only and should not be considered medical advice. Our products have not been evaluated by the FDA and are not intended to diagnose, treat, cure, or prevent any disease. Individual results may vary. Always consult a healthcare professional before using any supplements, especially if you have allergies or medical conditions. Use our products at your own risk, and discontinue use if you experience any adverse reactions. By using our website or products, you agree that ASN USA is not liable for any damages or losses. We reserve the right to update information without prior notice.