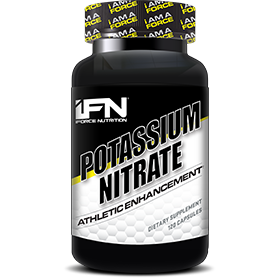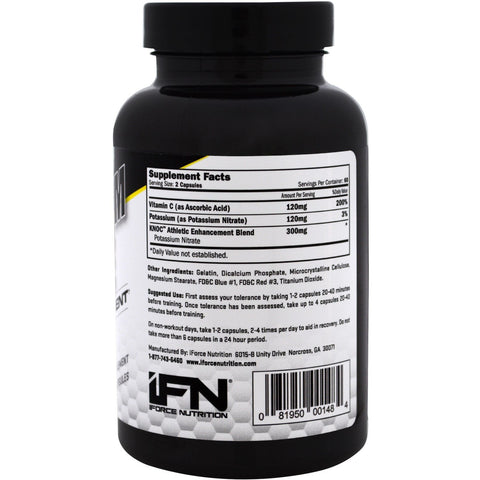 Iforce Nutrition
Potassium Nitrate Nitric Oxide Booster - IForce Nutrition (120 Caps)
$22.99
$28.99
you save $6.00
IForce Potassium Nitrate
Take your performance to new heights with IForce Potassium Nitrate, a nitric oxide booster that may help support improved athletic performance, cardiac health, vasodilation, recovery, and nitric oxide production.

Nitric oxide is known to help support an increase in nitric oxide production, which is beneficial when it comes to training. IForce Potassium Nitrate contains 300mg of IForce's own KNOCTM Athletic Enhancement Blend and delivers a high percentage of nitrates in each molecule. It is 61% nitrate and 39% potassium, allowing you to maximize the benefits of nitrates and apply them to your performance.

Potassium helps enhance performance while reducing inflammation, cramping, and dehydration during high-intensity training. Nitrates work by increasing the nitric oxide you receive, allowing you to perform at a higher capacity with a lower oxygen requirement.

IForce Potassium Nitrate  may help support an increases in your endurance, meaning less heavy breathing and the ability to run faster and for longer. Basically, this formula will transform the way you train. This formula may also promote intense vasodilation, delivering a sick pump that will leave you satisfied after every session at the gym.

Here's why you need IForce Potassium Nitrate
:
May help support enhanced performance & endurance

May help support an increase in vascularity 

Improved nutrient delivery
Scientific Study References 

Tomas Liubertas, Jonas Liudas Poderys, Vilma Zigmantaite, Pranas Viskelis, Audrius Kucinskas, Ramune Grigaleviciute, Jonas Jurevicius, and Dalia Urbonaviciene. "The Effect of Potassium Nitrate Supplementation on the Force and Properties of Extensor digitorum longus (EDL) Muscles in Mice." (URL: https://www.ncbi.nlm.nih.gov/pmc/articles/PMC10057731/)

 This product is only intended to be consumed by healthy individuals 18 years of age or older. Pregnant or nursing women should not use this product. Consult with your health care provider before using this product, especially if you are taking any prescription, over the counter medication, dietary supplement product or if you have any pre-existing medical condition including but not limited to: hypoglycemia (low blood sugar), high or low blood pressure, cardiac arrhythmia, stroke, heart, liver, kidney or thyroid disease, seizure disorder, psychiatric disease, diabetes, allergy to Aspartic Acid, difficulty urinating due to prostate enlargement or if you are taking MAO-B inhibitor or any other medication, including but not limited to MAOIs, SSRIs or any other compounds with serotonergic activity. Do not combine with alcohol. Discontinue use and immediately consult your health care professional if you experience any adverse reaction to this product. Do not exceed recommended serving. Do not use if safety seal is broken or missing. User assumes all risks, liabilities or consequences respecting testing. Keep Out OF Reach Of Children. Please store in a cool dry place.
FDA: These statements have not been evaluated by the Food and Drug Administration. This product is not intended to diagnose, treat, cure, or prevent any disease.