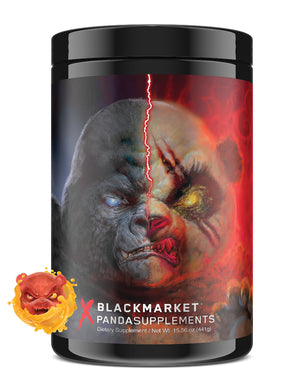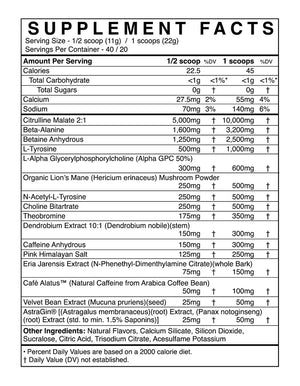 Panda Supplements
PANDA VS GORILLA LIMITED EDITION Collaboration - Panda Supplements (20/40 Servs)
Panda Supplements™ & Black Market Labs Collab: Unleashing the Power of Panda vs Gorilla!
Prepare for the ultimate showdown as two powerhouse companies join forces for an exclusive limited-time pre-workout. Get ready to experience an unrivaled combination of insane focus, crazy energy, and massive pumps.
Panda Supplements and Black Market have united to bring you this extraordinary Limited Edition pre-workout. Packed with clinically dosed, high-quality ingredients, it provides the energy, focus, and pump necessary to unleash your inner beast!
Key Ingredients:
L-Citrulline Malate 2:1 - 10,000 MG: Amplify nitric oxide production for explosive muscle pumps.
Betaine Anhydrous - 2,500 MG: Enhance power, strength, and endurance during intense workouts.
L-Tyrosine - 1000 MG: Fuel mental focus and sharpness for peak performance.
Alpha GPC - 600 MG: May help boost cognitive function and optimize mind-muscle connection.
Lion's Mane - 500 MG: Support cognitive health and promote mental clarity.
Warning: This pre-workout is extremely potent. Start with 1/4 scoop to assess tolerance. Do not exceed 1 scoop per day.
Ignite your workouts like never before and seize the opportunity to experience the power of this exclusive collaboration. Hurry, this restock is the last chance to get your hands on this extraordinary pre-workout!
Legal Disclaimer 
The information provided on this website and in our product descriptions is for informational purposes only and should not be considered medical advice. Our products have not been evaluated by the FDA and are not intended to diagnose, treat, cure, or prevent any disease. Individual results may vary. Always consult a healthcare professional before using any supplements, especially if you have allergies or medical conditions. Use our products at your own risk, and discontinue use if you experience any adverse reactions. By using our website or products, you agree that ASN USA is not liable for any damages or losses. We reserve the right to update information without prior notice. 
.