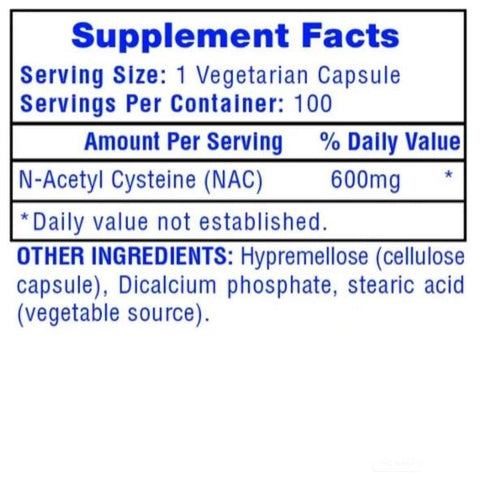 Hi Tech Pharmaceuticals
NAC (N-Acetyl Cysteine) 600mg - Hi-Tech Pharmaceuticals (100 caps)
$14.95
$16.99
you save $2.04
Description
NAC (
N-Acetyl Cysteine) 

600mg | Immune Support Supplement
N-Acetyl Cysteine aka NAC is an ingredient that has been around for 100's of years, but in the last few years, this ingredient has become increasingly popular with users. Why is this NAC product so popular? It is due to the ability for it to fight cell-damaging free radicals in the body. It does this by helping the body synthesize the antioxidant Glutathione. But NAC goes beyond that. It also supports a healthy liver, healthy lungs and can help with the detoxification of the kidneys. With all these benefits, you can see why NAC has become one of the biggest-selling supplements in the industry today. 
What are the benefits of taking NAC?
Helps to Support Healthy Liver Function
Helps to Support Healthy Lung Function
Helps to Detoxify the Kidneys
May help reduce Inflammation
May helps support reducing free Radicals
The information provided on this website and in our product descriptions is for informational purposes only and should not be considered medical advice. Our products have not been evaluated by the FDA and are not intended to diagnose, treat, cure, or prevent any disease. Individual results may vary. Always consult a healthcare professional before using any supplements, especially if you have allergies or medical conditions. Use our products at your own risk, and discontinue use if you experience any adverse reactions. By using our website or products, you agree that ASN USA is not liable for any damages or losses. We reserve the right to update information without prior notice.