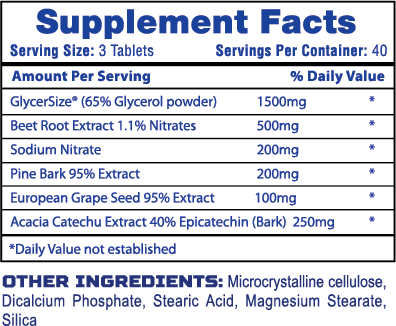 Hi Tech Pharmaceuticals
N'Gorge® Xtreme - Hi-tech (120 Tabs)
$37.95
$49.95
you save $12.00
Description
Get ready for the ultimate muscle-pumping experience with N'Gorge® Xtreme! This powerhouse nitric oxide formula is your ticket to skin-splitting pumps and vascular workouts like never before. 
N'Gorge® Xtreme's unique blend includes Glycersize® for enhanced hydration and stamina, Pine Bark extract for improved blood flow, and European Grape Seed extract for potent vasodilation. It also boasts Beetroot extract and sodium nitrate to supercharge nitric oxide production, enhancing both endurance and sprint performance. Plus, with the addition of Epicatechin, it combats myostatin and stimulates nutrient-rich blood flow to your muscles.
Take your workouts to the next level and stack N'Gorge® Xtreme with other Hi-Tech family pre-workouts like Krank3D®, Jack3D®, or Mesomorph® for an unbeatable pump-enhancing combo. Get ready to experience pumps like never before – no stimulants required!
Key Benefits 
Massive Muscle Pumps
Support Vascularity
Increased Endurance
Nitric Oxide Production
Stim-Free
SUGGESTED USE
Take three (3) tablets daily including non-training days. For best results take one serving (3 tablets) with 12-16 ounces of water 30-45 minutes prior to training and drink plenty of fluids during training to get increased pump and vascularity.