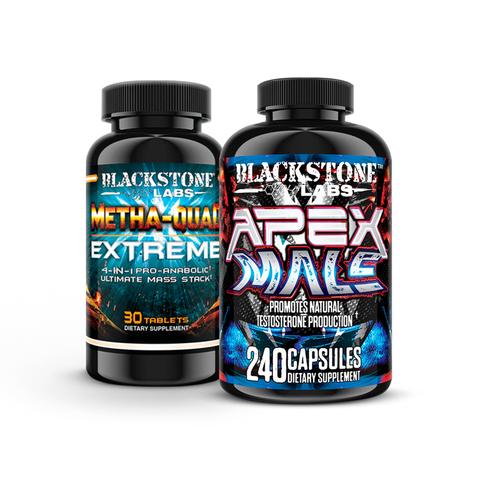 ASN USA
Muscle Building Stack
$129.99
$179.99
you save $50.00
Unlock Your Ultimate Potential with the Blackstone Labs Performance Bundle
Are you ready to take your fitness and physique goals to the next level? The Blackstone Labs Performance Bundle is your ticket to unparalleled gains and peak performance. This powerful bundle combines two potent products - Blackstone Labs Methaquad Extreme and Blackstone Labs Apex Male - to provide a comprehensive solution for athletes and bodybuilders looking to push beyond their limits.
Blackstone Labs Methaquad Extreme: This advanced prohormone supplement is the cornerstone of your muscle-building journey. Methaquad Extreme boasts a cutting-edge formula designed to maximize muscle growth, strength, and endurance. Its primary ingredient, Methasterone, is renowned for its effectiveness in building lean muscle mass and boosting strength. Complemented by ingredients like Laxogenin and Arimistane, this supplement supports protein synthesis, reduces muscle breakdown, and maintains optimal testosterone levels.
Blackstone Labs Apex Male: Elevate your performance in the gym with Apex Male, a natural testosterone booster. It's your daily staple for making lean muscle gains, increasing energy, and enhancing sexual health. Expect improved well-being, mood, and higher libido performance as Apex Male becomes an essential part of your routine. Just as you wouldn't compromise on breathing, eating, or sleeping, optimizing your hormone health is equally vital.
Why Choose the Blackstone Labs Performance Bundle:
Achieve unparalleled muscle growth and strength.
Elevate your athletic performance and endurance.
Experience increased energy and mood support.
Enhance sexual health and overall well-being.
Support lean muscle growth and maintain testosterone levels.
The Blackstone Labs Performance Bundle is your all-in-one solution for maximizing your physical potential. It's the perfect choice for serious athletes, bodybuilders, and fitness enthusiasts looking to elevate their game. Unleash your ultimate potential and make the gains you've always dreamed of with this powerful bundle.