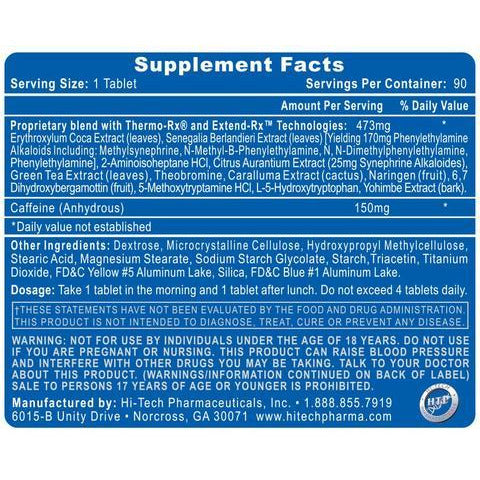 Hi Tech Pharmaceuticals
Lipodrene Elite - Hi Tech Pharmaceuticals (90 Tabs)
$39.95
$39.99
you save $0.04
What Is Lipodrene Elite?
Lipodrene Elite is the newest version of Lipodrene. It is a fat burner powered by powerful weight loss ingredients including Synephrine, DMHA, and Yohimbe.†
But with Lipodrene Elite we have included one BRAND NEW, and never before seen stimulant/weight loss enhancer - Erythroxylum Coca Extract (leaves).†
Lipodrene Elite is part of our top 2021 best-selling fat burners and has been a top seller in 2022.
How Does It Work?
Ingredients:
Erythroxylum Coca Extract (leaves):

 

may help with increasing energy, curbing the appetite, and promoting weight loss.†

Senegalia Berlandieri Extract (Leaves):

 

may increase energy, and focus and boosts overall mood.†

2-Aminoisoheptane HCL:

 

may help increase energy, improve performance, and increase weight loss.†

Citrus Aurantium Extract:

 

may help curb your appetite.†

Green Tea Extract (leaves):

 

may help with weight loss.†

Theobromine:

 

may increase energy and may help shed water weight.† It has also been shown to suppress appetite as well.†

Caralluma Extract (cactus):

 

may help provide significant weight loss by providing powerful appetite suppression.†

Naringen (fruit):

 

may provide a natural energy boost.†

6,7 Dihydroxybergamottin (fruit):

 

may help the other ingredients perform better in the body which may make it last longer.†
5-Methoxytryptamine HCL:

 

may boost overall mood.†

L-5-Hydroxytryptophan:

 

may also help increase overall well-being and mood.†

Yohimbe Extract (bark):

 

is a mild stimulant that may increase energy.† It may also help suppress appetite.†

Who Should Take It?
Lipodrene Elite is ideal for experienced fat burner users looking to lose weight.† 
What Can I Expect?
Intense energy†
Euphoric mood boost†
Maximum appetite suppression†
Quick results†
Weight Loss †
References
Jenkins, A. J., Llosa, T., Montoya, I., & Cone, E. J. (1996). Identification and quantitation of alkaloids in coca tea. Forensic science international, 77(3), 179–189.
https://www.ncbi.nlm.nih.gov/pmc/articles/PMC2705900/
Lipodrene Elite Warnings & Side Effects



Not for use by individuals under the age of 18 years. Do not use if you are pregnant or nursing. Individuals who consume caffeine with this product may experience serious adverse health effects. Individuals who are sensitive to the effects of caffeine should consult a licensed healthcare professional before consuming this product.
The information provided on this website and in our product descriptions is for informational purposes only and should not be considered medical advice. Our products have not been evaluated by the FDA and are not intended to diagnose, treat, cure, or prevent any disease. Individual results may vary. Always consult a healthcare professional before using any supplements, especially if you have allergies or medical conditions. Use our products at your own risk, and discontinue use if you experience any adverse reactions. By using our website or products, you agree that ASN USA is not liable for any damages or losses. We reserve the right to update information without prior notice.