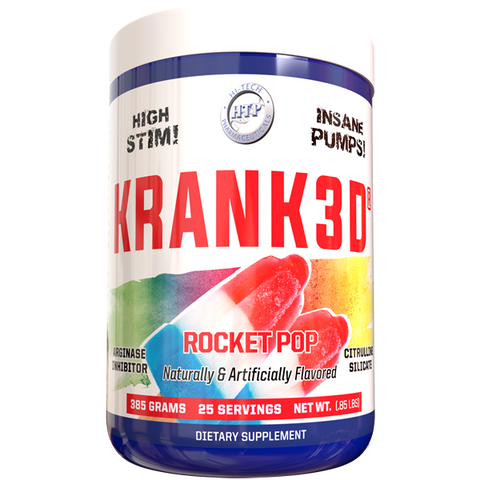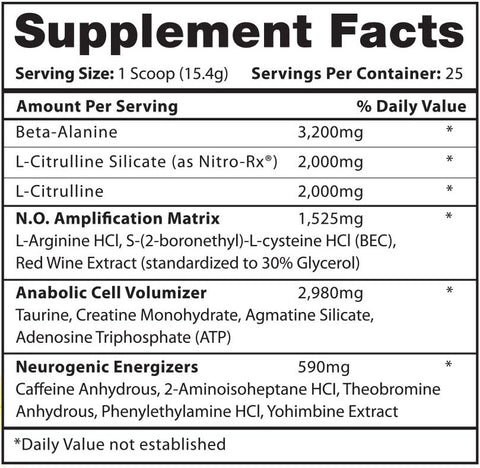 Hi Tech Pharmaceuticals
Krank3d® - Hi Tech (25 servs)
$49.95
$69.95
you save $20.00
Discover the Power of KRANK3D® by Hi-Tech: The Ultimate Nitric Oxide Formula 
Unleashing Muscular Potential! With our exclusive Citrulline Silicate (Nitro Rx®) compound, KRANK3D® reigns as the most potent Nitric Oxide solution available. By utilizing Arginase Inhibition, a revolutionary technique, we ensure an abundance of pure L-arginine in your muscles, maximizing Nitric Oxide production and promoting optimal muscle pump. Pushing the boundaries of Nitric Oxide production, KRANK3D® is designed to supercharge your pre-workout routine, igniting explosive muscle growth. Fuel your training with our cutting-edge formula, enhancing intensity, performance, and facilitating rapid recovery. Unleash your muscular potential with KRANK3D®
Key Benefits:
Unleash Muscular Potential: Experience the power of KRANK3D® in maximizing your muscle growth and performance.
Enhanced Nitric Oxide Production: Our proprietary Citrulline Silicate (Nitro Rx®) compound ensures the strongest Nitric Oxide formula ever developed.
Optimal Muscle Pump: By utilizing Arginase Inhibition, KRANK3D® allows for an abundance of pure L-arginine, promoting maximum muscle vasodilation.
Explosive Workouts: Push the boundaries of your training with KRANK3D®, designed to enhance training intensity and work performance.
Unmatched Quality: Hi-Tech's exclusive technology guarantees superior product quality and effectiveness.
References
Caldwell RW, Rodriguez PC, Toque HA, Narayanan SP, Caldwell RB. Arginase: A Multifaceted Enzyme Important in Health and Disease. Physiol Rev. 2018 Apr 1;98(2):641-665. doi: 10.1152/physrev.00037.2016. PMID: 29412048; PMCID: PMC5966718.
https://www.ncbi.nlm.nih.gov/pmc/articles/PMC5966718/
The information provided on this website and in our product descriptions is for informational purposes only and should not be considered medical advice. Our products have not been evaluated by the FDA and are not intended to diagnose, treat, cure, or prevent any disease. Individual results may vary. Always consult a healthcare professional before using any supplements, especially if you have allergies or medical conditions. Use our products at your own risk, and discontinue use if you experience any adverse reactions. By using our website or products, you agree that ASN USA is not liable for any damages or losses. We reserve the right to update information without prior notice.