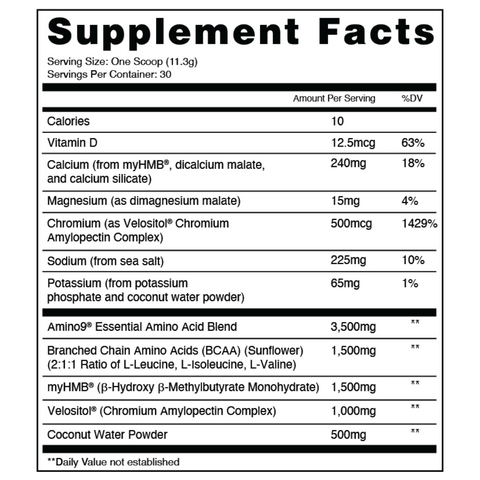 Ambrosia Collective
Hydroglyph - Ambrosia Collective (30 Servs)
Description
Experience the extraordinary benefits of Hydroglyph™, a potent formula designed to support your fasting journey and optimize your results. This exceptional blend combines essential nutrients to promote fat loss, muscle retention, hydration, and overall performance. Discover the key advantages of Hydroglyph™.
Key Benefits: 
Maintain Muscle Mass: With its powerful blend, Hydroglyph™ may help supports muscle retention, preserving your hard-earned gains.
Optimize Hydration: Stay properly hydrated with Hydroglyph™, as it contains electrolytes that help promote cellular hydration and overall well-being.
Boost Performance: Fuel your workouts and take your training to the next level with Hydroglyph™, providing essential amino acids and BCAAs to power your muscles.
Manage Hunger: Hydroglyph™  may help support managing hunger during fasting, making it easier to stick to your plan and achieve your goals.
Legal Disclaimer These statements have not yet been evaluated by the United States Food and Drug Administration. This product is not intended to diagnose, treat, cure, or prevent any disease. Statements regarding dietary supplements have not been evaluated by the FDA and are not intended to diagnose, treat, cure, or prevent any disease or health condition.