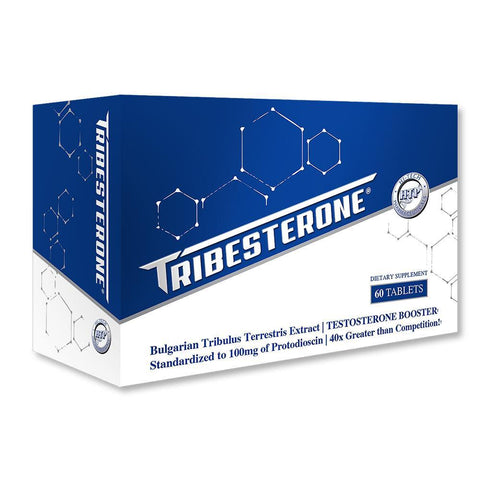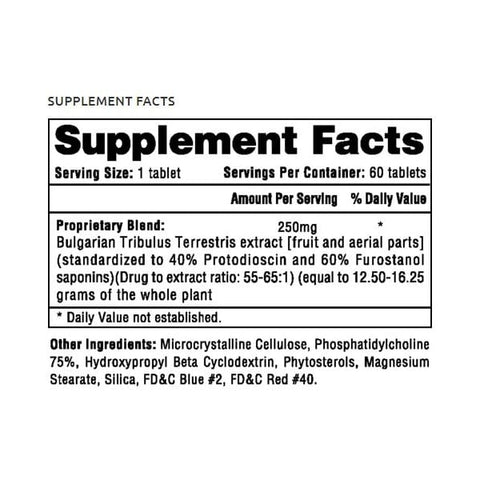 Hi Tech Pharmaceuticals
Tribesterone - Hi Tech Pharmaceuticals (60 Tablets)
At Hi-Tech they have taken a well-loved testosterone boosting ingredients and have manufactured the latest and greatest in testosterone support supplements.
Introducing, Tribesterone.

Tribesterone® contains the clinically tested and trialled ingredient Tribulus Terrestris, this aids to increase free testosterone levels in adult males. Hi-Tech's research and development team has tested many different forms of Tribulus raw materials and Hi-Tech resided on a 60% furostanol saponins with a minimum of 40% protodioscin. A much more potent mixture than many other testosterone boosters.

Feel the difference of increased muscle mass, improved LH, testosterone response and improved erectile ability.

Tribesterone®  has shown to increase the attention of androgen receptors, causing a surge in sensitivity to androgens like testosterone and DHT through a disperse of nitric oxide. There is also significant increases in the levels of the hormones - testosterone, luteinizing hormone (LH) and dehydroepiandrosterone (DHEA) meaning more muscle growth and strength faster than ever before.


Hi-Tech Pharmaceuticals Tribesterone Side Effects
This product is only intended to be consumed by healthy adults 18 years of age or older. Pregnant or nursing women should not use this product.
References
Sellandi TM, Thakar AB, Baghel MS.- 2012- Clinical study of Tribulus terrestris Linn. in Oligozoospermia: A double blind study.

https://www.ncbi.nlm.nih.gov/pubmed/23723641
Kamenov Z, Fileva S, Kalinov K, Jannini EA.- 2017- Evaluation of the efficacy and safety of Tribulus terrestris in male sexual dysfunction-A prospective, randomized, double-blind, placebo-controlled clinical trial.

https://www.ncbi.nlm.nih.gov/pubmed/28364864
The information provided on this website and in our product descriptions is for informational purposes only and should not be considered medical advice. Our products have not been evaluated by the FDA and are not intended to diagnose, treat, cure, or prevent any disease. Individual results may vary. Always consult a healthcare professional before using any supplements, especially if you have allergies or medical conditions. Use our products at your own risk, and discontinue use if you experience any adverse reactions. By using our website or products, you agree that ASN USA is not liable for any damages or losses. We reserve the right to update information without prior notice.