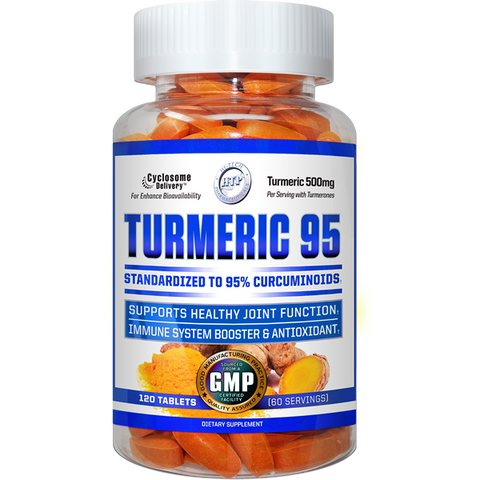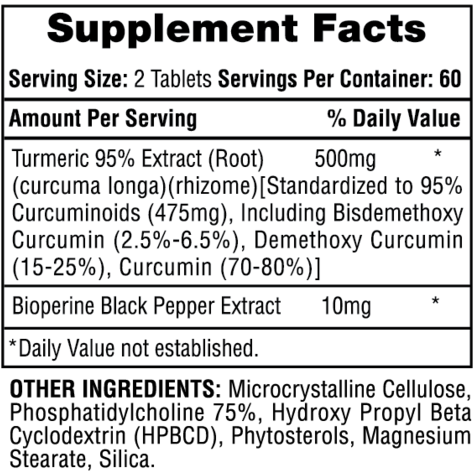 Hi Tech Pharmaceuticals
Turmeric 95® - Hi Tech Pharmaceuticals (120 Tablets)
Description
**Turmeric 95 - Improved Health and Wellness Support**

Turmeric is well-regarded for its potential health and wellness benefits, including antioxidant support, joint health, and anti-inflammatory properties. Introducing Turmeric 95, a new and enhanced version brought to you by Hi-Tech Pharmaceuticals.

With Turmeric 95, we have taken the known advantages of Turmeric and formulated it into easily consumable tablet form. Through our Cyclosome delivery technology and cognitive-enhancing nootropics, we have achieved a remarkable 30x increase in bioavailability.

Naturally, curcumin found in Turmeric has poor bioavailability, which means your body may not absorb much of it upon consumption. Additionally, much of its benefits may be broken down and metabolized before they can take effect.

With Turmeric 95, you can now experience rapid absorption, assisting in combating inflammation and harnessing all the potential benefits of Turmeric. Make your health and well-being a priority with the improved Turmeric 95 formula, ensuring you receive optimal support for your overall health.
The information provided on this website and in our product descriptions is for informational purposes only and should not be considered medical advice. Our products have not been evaluated by the FDA and are not intended to diagnose, treat, cure, or prevent any disease. Individual results may vary. Always consult a healthcare professional before using any supplements, especially if you have allergies or medical conditions. Use our products at your own risk, and discontinue use if you experience any adverse reactions. By using our website or products, you agree that ASN USA is not liable for any damages or losses. We reserve the right to update information without prior notice.