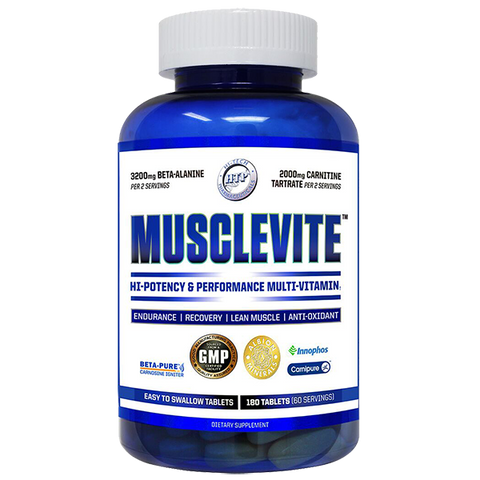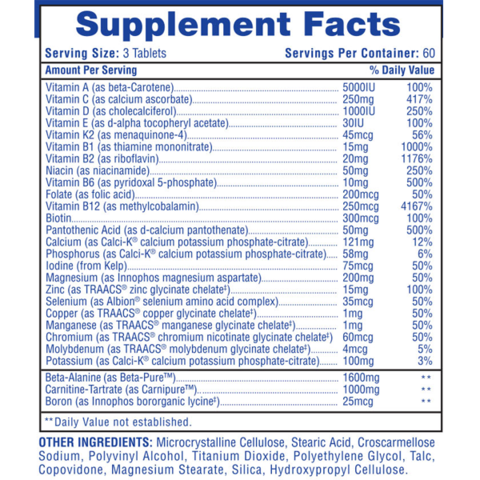 Hi Tech Pharmaceuticals
Musclevite - Hi Tech Pharmaceuticals (180 Tabs)
$32.99
$39.99
you save $7.00
Description
Multi-Vitamin for Athletes & Bodybuilders | Hi-Tech Pharmaceuticals Musclevite
Do you want a multivitamin that will fit to your needs as an athlete or bodybuilder? Do you find that the average multivitamin just doesn't show any results? Then this new performance multivitamin from Hi-Tech Pharmaceuticals is the perfect multivitamin for you! Hi-Tech Pharmaceuticals Musclevite contains an impressive blend of vitamins and minerals with a variety of benefits, but it also contains a variety of Sports Nutraceuticals including Beta-Alanine and L-Carnitine to support both athletes and bodybuilders alike. These key ingredients are what makes Musclevite specifically formulated for those who are active and want to support their active lifestyle. L-Carnitine is an amino acid that helps burn fat as fuel, giving you more energy for workouts and your daily life in general. Through this process of burning fat for fuel, L-Carnitine also helps control fat content as well. Beta-Alanine is another component of Hi-Tech Pharmaceuticals Musclevite that produces carnosine that helps athletes have increased endurance during high-intensity exercise. This leads to decreased fatigue while working out and longer training periods. So if you're looking for a multivitamin that targets athletes and has plenty of health and fitness benefits, then look no further than Hi-Tech Pharmaceuticals Musclevite! 
Hi-Tech Pharmaceuticals Musclevite Benefits
Contains a High-Potency A, B-Complex, C, D, E Vitamins
Vitamins Provide Increased Energy
Helps Enhance Performance
Contains 2000mg Carnitine Tartrate per Every 2 Servings
Contains 3200mg Beta-Alanine per Every 2 Servings
Enhances Post Exercise Muscle Recovery
Contains Certified Minerals
How to Take Hi-Tech Pharmaceuticals Musclevite
Take as a dietary supplement. Take 1 serving (3 tablets) up to two times a day, each with food.
The information provided on this website and in our product descriptions is for informational purposes only and should not be considered medical advice. Our products have not been evaluated by the FDA and are not intended to diagnose, treat, cure, or prevent any disease. Individual results may vary. Always consult a healthcare professional before using any supplements, especially if you have allergies or medical conditions. Use our products at your own risk, and discontinue use if you experience any adverse reactions. By using our website or products, you agree that ASN USA is not liable for any damages or losses. We reserve the right to update information without prior notice.