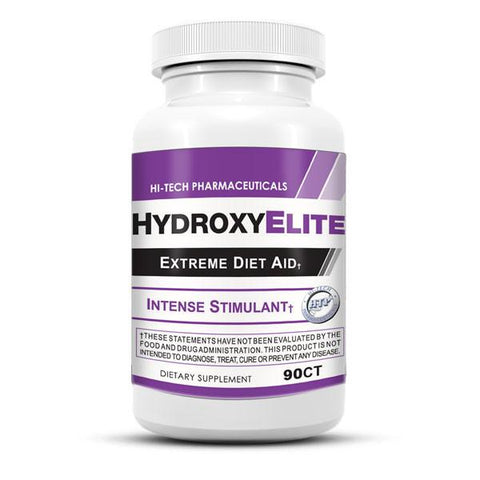 Hi Tech Pharmaceuticals
HydroxyElite - Hi Tech Pharmaceuticals (90 Caps)
Description
HYDROXY ELITE is a dynamic formula that works all day to boost your energy and see you through your busy schedule without that end-of-day crash.
Hydroxy Elite uses Caffeine, Garcinia Cambogia Extract, Bauhinia Purpurea Extract, Bacopa Monnierti Extract, and other carefully selected ingredients to ensure you get the best out of every session.
This formula utilizes the focus-inducing properties of Caffeine to provide you with increased energy and sharpness. Additionally, it uses Garcinia Cambogia Extract, which contains Hydroxy Citric Acid (HCA) and may help reduce fatty acid synthesis after a meal.
DMHA (2-Aminoisoheptane HCl) is one of the most potent thermogenic compounds, helping with focus, mood-boosting, and supporting your weight goals.
With a source of clean energy that will last you all day, this powerful product will give you the motivation and fuel to power through those draining gym sessions.
THE BEST BENEFITS:
Great for high-intensity exercise 

May help supports weight goals

Increased energy 

Improved mental sharpness
Warnings & Side Effects
WARNING: PRO NOT FOR USE BY INDIVIDUALS UNDER THE AGE OF 18 YEARS. DO NOT USE IF YOU ARE PREGNANT OR NURSING. THIS PRODUCT CAN RAISE BLOOD PRESSURE AND INTERFERE WITH OTHER DRUGS YOU MAY BE TAKING. TALK TO YOUR DOCTOR ABOUT THIS PRODUCT.

SALE TO PERSONS 17 YEARS OF AGE OR YOUNGER IS PROHIBITED.

INDIVIDUALS WHO CONSUME CAFFEINE WITH THIS PRODUCT MAY EXPERIENCE SERIOUS ADVERSE HEALTH EFFECTS. INDIVIDUALS WHO ARE SENSITIVE TO THE EFFECTS OF CAFFEINE SHOULD CONSULT A LICENSED HEALTH CARE PROFESSIONAL BEFORE CONSUMING THIS PRODUCT. DO NOT CONSUME SYNEPHRINE OR CAFFEINE FROM OTHER SOURCES, INCLUDING BUT NOT LIMITED
TO, COFFEE, TEA, SODA OR OTHER DIETARY PRODUCTS OR MEDICATIONS CONTAINING CAFFEINE OR PHENYLEPHRINE. DO NOT USE FOR MORE THAN 8 WEEKS. CONSULT WITH YOUR PHYSICIAN PRIOR TO USE IF YOU ARE TAKING MEDICATION, INCLUDING BUT NOT LIMITED TO MAOI INHIBITORS, ASPIRIN, ANTIDEPRESSANTS, NON-STEROIDAL ANTI-INFLAMMATORY DRUGS OR PRODUCTS CONTAINING PHENYLEPHRINE, EPHEDRINE, PSEUDO-EPHEDRINE, OR OTHER STIMULANTS. CONSULT YOUR PHYSICIAN PRIOR TO USE IF YOU HAVE A MEDICAL CONDITION, INCLUDING BUT NOT LIMITED TO, HEART, LIVER, KIDNEY, OR THYROID DISEASE, PSYCHIATRIC OR EPILEPTIC DISORDERS, DIFFICULTY URINATING, DIABETES, HIGH BLOOD PRESSURE, CARDIAC ARRHYTHMIA, RECURRENT HEADACHES, ENLARGED PROSTATE OR GLAUCOMA. DISCONTINUE 2 WEEKS PRIOR TO SURGERY OR IF YOU EXPERIENCE RAPID HEARTBEAT, DIZZINESS, SEVERE HEADACHE OR SHORTNESS OF BREATH. IN CASE OF ACCIDENTAL OVERDOSE, SEEK PROFESSIONAL ASSISTANCE OR CONTACT A POISON CONTROL CENTER IMMEDIATELY. AVOID ALCOHOL WHILE TAKING THIS PRODUCT. EXCEEDING RECOMMENDED SERVING MAY CAUSE SERIOUS ADVERSE HEALTH EFFECTS, INCLUDING HEART ATTACK AND STROKE. IMPROPER USE OF THIS PRODUCT MAY BE HAZARDOUS TO A PERSON'S HEALTH.
The information provided on this website and in our product descriptions is for informational purposes only and should not be considered medical advice. Our products have not been evaluated by the FDA and are not intended to diagnose, treat, cure, or prevent any disease. Individual results may vary. Always consult a healthcare professional before using any supplements, especially if you have allergies or medical conditions. Use our products at your own risk, and discontinue use if you experience any adverse reactions. By using our website or products, you agree that ASN USA is not liable for any damages or losses. We reserve the right to update information without prior notice.