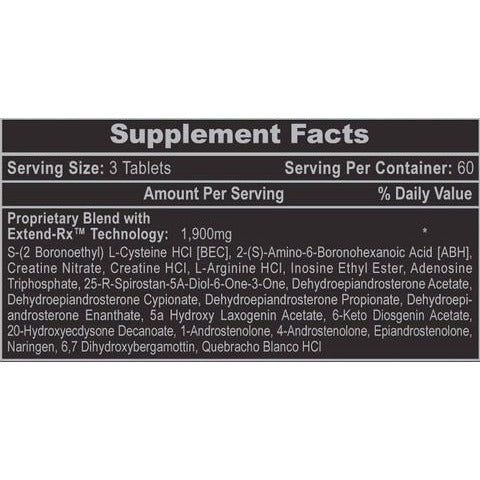 Hi Tech Pharmaceuticals
Anavar - Hi Tech Pharmaceuticals (180 Tabs)
$59.95
$69.99
you save $10.04
Are you ready to take your athletic performance and physique to the next level? Look no further than Anavar by Hi-Tech Pharmaceuticals. This powerful supplement is designed to help you achieve remarkable gains and surpass your fitness goals.

Key Ingredients and Benefits:
4-Androstenolone: Also known as 4-DHEA, this compound may help converts to testosterone, promoting lean muscle growth, increased strength, and enhanced performance.
L-Arginine: Amino acid that may helps improve blood flow and vasodilation, resulting in enhanced nutrient delivery to muscles and improved endurance.
L-Carnitine: May help supports fat metabolism and energy production, assisting in weight loss and promoting lean muscle development.
Tribulus Terrestris Extract: Natural herb that may help enhances testosterone production, supporting muscle growth, strength gains, and improved athletic performance.
N-Acetyl-L-Cysteine (NAC): Powerful antioxidant that may help aid in recovery, reduces oxidative stress, and supports overall health and well-being.
D-Aspartic Acid: Amino acid that may help stimulates testosterone production, enhancing muscle growth, strength, and libido.
Eurycoma Longifolia Extract: Also known as Longjack, it may help support testosterone production, increases muscle mass, and boosts libido.
 Hi-Tech Pharmaceuticals Anavar Side Effects
Not for use by individuals under the age of 21 years, not for use by women. Keep out of reach of children. Do not use it governed by any athletic or governing body that prohibits Prohormone or anti-Estrogen supplements. Not for use by individuals under the age of 21 years. Not for use by women. Keep out of reach of children. Consult a physician or licensed qualified health care professional before using this product if you have, or your family has a history of: prostate cancer, prostate enlargement, heart disease, low HDL cholesterol or if you are using any other dietary supplement, prescription drug or over-the-counter drug. Do not exceed recommended dosage. Exceeding recommended dosage may cause serious adverse health effects. Possible side effects include: acne, aggressiveness and irritability. Discontinue use and call a physician immediately if you experience rapid heartbeat, dizziness, blurred vision or other similar symptoms.
The information provided on this website and in our product descriptions is for informational purposes only and should not be considered medical advice. Our products have not been evaluated by the FDA and are not intended to diagnose, treat, cure, or prevent any disease. Individual results may vary. Always consult a healthcare professional before using any supplements, especially if you have allergies or medical conditions. Use our products at your own risk, and discontinue use if you experience any adverse reactions. By using our website or products, you agree that ASN USA is not liable for any damages or losses. We reserve the right to update information without prior notice.