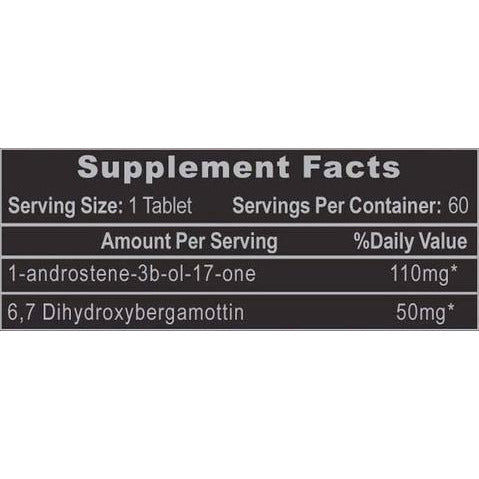 Hi Tech Pharmaceuticals
1-Testosterone - Hi Tech Pharmaceuticals (60 Caps)
$59.99
$64.95
you save $4.96
Description 
Hi-Tech Pharmaceuticals are coming to you again with another well-researched product that is backed by nothing but science.

1-Testosterone - the ultimate game-changer for serious lifters and bodybuilders. Prepare to experience a revolutionary formula that will propel your gains and transform your physique like never before.
Highly Anabolic Prohormone | Hi-Tech Pharmaceuticals 1-Testosterone
Hi Tech Pharmaceuticals 1-Testosterone is one of the most effective prohormones ever produced in the supplement industry! This highly anabolic prohormone will help you receive a pure and lean bulk with its formula of potent 1-Androsterone and Bergamottin. 1-testosterone has been tested in a university study to prove that men gained lean muscle mass. In fact, these men gained about 10.4 lbs of lean mass on average!
Take control of your workouts with one of the best that Hi-tech has to offer. 
Key Ingredients and Benefits:
1-Androsterone: This potent compound is specifically designed to may help enhance lean muscle mass, may help promote strength gains, and boost overall performance.
Bergamottin: A synergistic ingredient that works in harmony with 1-Androsterone, Bergamottin helps improve absorption and maximize the benefits of this powerful formula.
Hi-Tech Pharmaceuticals 1-Testosterone Side Effects
KEEP OUT OF REACH OF CHILDREN. This product is intended for adult men only. Not for use by women or anyone under 21 years of age. If you have or have had a medical condition or are currently using prescription drugs consult your physician before using this product. Avoid this product if you have any previous history of medical dysfunction or disease, including but not limited to high blood pressure, heart, kidney, thyroid, or psychiatric disease, difficulty urinating, prostate enlargement, anxiety, depression, seizure disorder, or have had a stroke. Do not combine this product with other medications or supplements. Do not exceed suggested servings. Consult your healthcare professional before use if you are taking any prescription drugs.
*Note: This product is intended for healthy adults seeking to enhance their performance and physique. Please consult with a healthcare professional before using if you have any medical conditions or are taking any medications. Keep out of reach of children.*
Legal Disclaimer 
The information provided on this website and in our product descriptions is for informational purposes only and should not be considered medical advice. Our products have not been evaluated by the FDA and are not intended to diagnose, treat, cure, or prevent any disease. Individual results may vary. Always consult a healthcare professional before using any supplements, especially if you have allergies or medical conditions. Use our products at your own risk, and discontinue use if you experience any adverse reactions. By using our website or products, you agree that ASN USA is not liable for any damages or losses. We reserve the right to update information without prior notice.