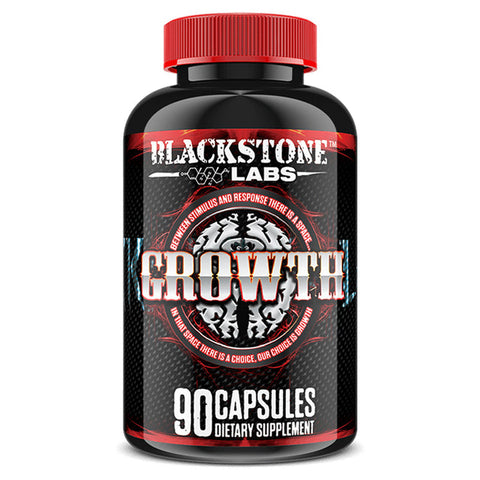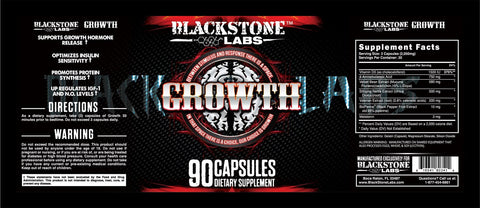 Blackstone Labs
Growth - Blackstone Labs (90 caps)
Unlock Your Full Growth Potential with Growth by Blackstone Labs
Muscle growth is the ultimate goal for every dedicated athlete who pushes their limits in the gym. To achieve remarkable muscle gains, human growth hormone (HGH) plays a vital role in stimulating growth, cell reproduction, and regeneration. However, using synthetic HGH comes with legal and health risks. Thankfully, Blackstone Labs has developed an all-natural solution to boost HGH release with Growth—the ultimate formula for HGH enhancement and superhuman muscle building.
Key Ingredients:
Vitamin D3 (1,500IU): Essential for testosterone production and growth, Vitamin D3 is a crucial nutrient. By supplementing with Vitamin D3, especially if deficient, you can witness increased growth potential.
4-aminobutanoic acid (GABA) (750mg): Known as the "downer" neurotransmitter, GABA promotes deep relaxation and improves the quality of sleep. By increasing alpha waves and reducing beta waves in the brain, GABA allows for longer and more restful sleep, aiding in optimal recovery and growth.
Velvet Bean (590mg): Rich in L-DOPA, a dopamine precursor, Velvet Bean enhances mood, sexuality, movement, and growth hormone production. By crossing the blood-brain barrier, L-DOPA inhibits prolactin and stimulates growth hormone release.
Stinging Nettle (500mg): This ingredient prevents testosterone from binding to Steroid Hormone Binding Globulin (SHBG), which leads to higher levels of free testosterone in the body. Increased free testosterone supports lean muscle growth and development.
Valerian (200mg): Known for promoting relaxation and sedation, Valerian enhances the quality of sleep. By providing a more productive night's sleep, Valerian contributes to improved recovery and growth.
BioPerine (10mg): BioPerine inhibits certain enzymes responsible for metabolizing nutrients, allowing the growth hormone-boosting compounds in Growth to enter the body in their active form.
Melatonin (3mg): Melatonin helps regulate sleep patterns and effectively treats sleep disorders such as insomnia. By normalizing sleep, melatonin promotes optimal recovery and growth.
Warnings and Side Effects
KEEP OUT OF REACH OF CHILDREN. Do not use if pregnant or nursing. Not for use by individuals under the age of 18. Consult your physician or health care professional before using this product if you have, or have a family history of, prostate cancer, prostate enlargement, heart disease or low ۝ cholesterol (HDL). Consult your physician before use if you have an auto-immune condition, depressive disorder, or if you are taking sedatives or corticosteroid drugs. This product may cause drowsiness. Do not operate a vehicle or heavy machinery after consuming this product. Do not use in conjunction with alcohol. Consult your physician prior to use if you are taking carbidopa or drugs/supplements with serotonergic activity. These may include, but are not limited to, L-tryptophan, S-adenosylmethionine (SAMe), St. John's wort, antidepressants, pain killers, over-the-counter cough and cold medication containing dextromethorphan, anti-nausea medication and anti-migraine medication. Discontinue use and consult your physician if you show signs of weakness, oral ulcers, or abdominal pain accompanied by severe muscle pain or if you experience skin changes. Store in a cool, dry place under normal conditions.
* These statements have not been evaluated by the Food and Drug Administration. This product is not intended to diagnose, treat, cure, or prevent any disease.