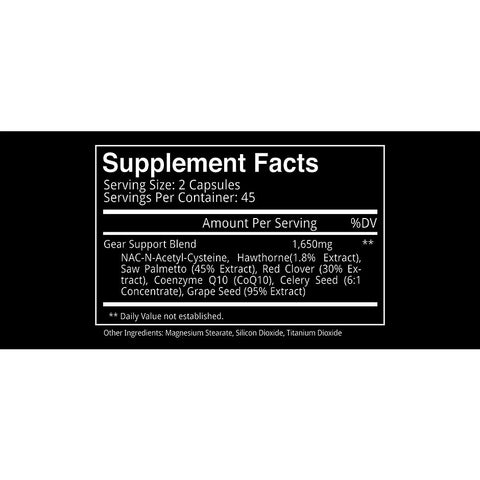 Blackstone Labs
Gear Support - Blackstone Labs (90 caps)
$39.99
$54.99
you save $15.00
Keep your body up to standard while you train beyond your limits with
Blackstone Labs Gear Support
. This all-in-one on-cycle and post-cycle prohormone support system is designed to protect and support your liver, cardiovascular and immune health so you can keep performing at your best.
Blackstone Labs Gear Support
uses natural ingredients to keep your body's natural processes performing at optimal levels while you're supplementing with other hardcore anabolic prohormones. This formula is equipped with a blueprint of antioxidants and natural ingredients to support your body while you train like a champion.

This formula contains ingredients like Red Clover Extract, which acts as a diuretic, and NAC, which is an antioxidant that helps to eliminate free radicals, neutralize toxins and prevent damage to the liver. Hawthorne Berry supports the heart and cardiovascular system, improving blood and oxygen supply to the muscles, while Saw Palmetto helps to prevent the conversion of testosterone to DHT. Other ingredients include Celery Seed Extract and Grape Seed Extract.

Here's why you need
Blackstone Labs Gear Support
:
Supports cardiovascular health

Assists with liver health

Boosts immune function 

Optimises energy levels
Warnings & Side Effects:
Do not exceed the recommended dose of Blackstone Labs Gear Support. This product should only be used by healthy adults at least 21 years old. Do no use if pregnant or nursing, or if you are at risk of, or being treated for diabetes, liver problems or high blood pressure. Consult your health care professional before using any dietary supplements.