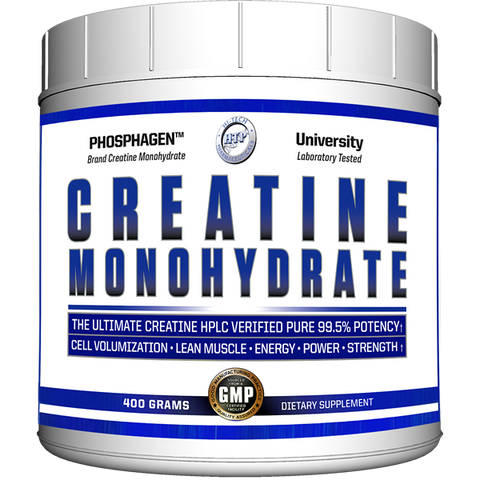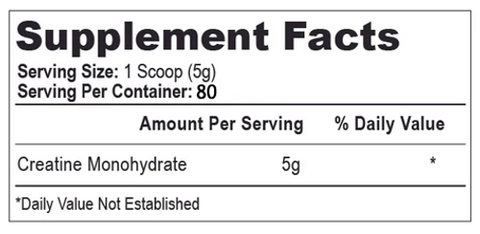 Hi Tech Pharmaceuticals
Creatine Monohydrate - Hi Tech Pharmaceuticals (400g)
The Ultimate Creatine, HPLC Verified With Pure 99.5% Potency!

Research has shown that Creatine Monohydrate may help athletes train at higher intensity during resistance exercise. Once creatine reaches the muscles, it's converted into Phosphocreatine (creatine phosphate), and ultimately becomes the body's primary energy source; adenosine triphosphate. In the body, creatine helps to regenerate ADP (spent energy) back into ATP (fuel for energy) for increased energy output involving short, intense bursts of energy. Creatine is a natural substance that is synthesized in the body from three amino acids, Arginine, Glycine and Methionine. It's also found naturally in smaller amounts within certain foods.
Hi-Tech Pharmaceuticals brings you the absolute best Creatine – HPLC Verified 99.5% pure potency Creatine Monohydrate .
Creatine is a non-essential amino acid that is an important source of chemical energy for muscle contraction. In your skeletal muscles, where you build milk and generate the energy for movement, creatine participates in the complex muscle contraction process to maximize muscle energy. Adenosine Triphosphate, abbreviated to ATP, is a key fuel for muscle contraction, the repetition exercises you perform when bodybuilding. The more ATP you make available to your muscles the more energy created to power bodybuilding and support performance in aerobic energy demanding sports, like sprinting, rowing, bodybuilding. 
Click Below to for link to Creatine studies
The information provided on this website and in our product descriptions is for informational purposes only and should not be considered medical advice. Our products have not been evaluated by the FDA and are not intended to diagnose, treat, cure, or prevent any disease. Individual results may vary. Always consult a healthcare professional before using any supplements, especially if you have allergies or medical conditions. Use our products at your own risk, and discontinue use if you experience any adverse reactions. By using our website or products, you agree that ASN USA is not liable for any damages or losses. We reserve the right to update information without prior notice.