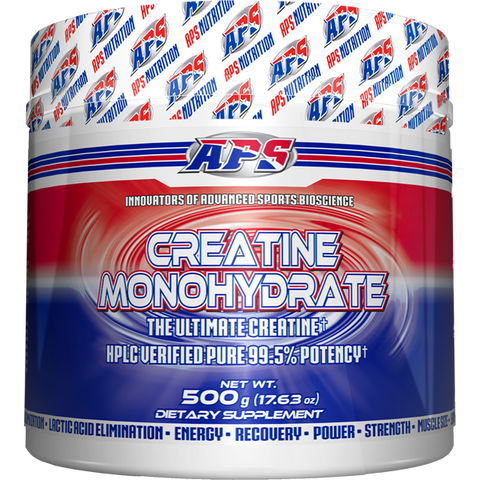 APS Nutrition
Creatine Monohydrate 500g - APS Nutrition
Description
Found naturally in the body, as well as in red meat and seafood, Creatine plays a vital role in generating energy for your muscles. About 95% of Creatine is found in the skeletal muscle, and it can increase your strength, power, and muscle mass.
Effective before and after the gym, a Creatine Monohydrate can be stacked with your pre-workout or post-workout shake, or consumed effectively alone.
Multiple sports nutrition studies have suggested that supplementing a 5g dose of Creatine Monohydrate daily can improve your muscle fiber size and mass, along with your strength, power, sprint performance, and recovery.
Click the link below for studies on Creatine Monohydrate:
https://www.ncbi.nlm.nih.gov/pmc/articles/PMC7910963/ 

Key Features:
Suitable for all sports and fitness levels

Supports optimized ATP production

Supports workout performance 

Helps to increase muscle mass
SUGGESTED USE
As a dietary supplement, take 1 scoop daily or as directed by a physician.  For loading:  take 1 serving (5 grams) 4 times per day (total of 20 grams) for 5 days with 12-16 oz of water or non-acidic juice.  For maintenance:  take 1 serving (5 grams) daily with 12-16 oz of water or non-acidic juice.
Legal Disclaimer These statements have not yet been evaluated by the United States Food and Drug Administration. This product is not intended to diagnose, treat, cure, or prevent any disease.