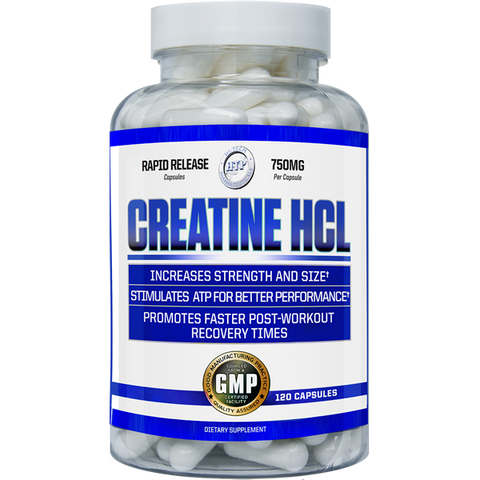 Hi Tech Pharmaceuticals
Creatine HCl - Hi Tech Pharmaceuticals (120 Caps)
Hi-Tech Pharmaceuticals Creatine HCL
Don't pick up the weights until you've picked up Creatine HCL. Creatine Hydrochloride is a form of creatine that is molecularly bound with hydrochloric acid to significantly enhance its solubility and overall absorption rates. This allows it to break down quicker in your body and is more easily absorbed by your muscle cells.

Hi-Tech Pharmaceuticals Creatine HCL is designed to help support a increase your performance by fuelling your muscles with 750mg of rapid-release Creatine HCL. Coming in capsule form, this Creatine option may help support a increases muscle strength and size, enhances your ATP production to support better performance, and promotes accelerated recovery so that you can continue to train at your highest level. 

Produced in a GMP-certified facility, Hi-Tech Pharmaceuticals Creatine HCL can increase the efficiency of your workouts, fuelling you through even the most muscle-straining sessions. The accelerated ATP production improves your performance and endurance while boosting your muscle volume, power output, and repair.

Benefits
 Creatine HCL:
Increases muscle strength and size

Stimulates ATP for improved athletic performance

Promotes faster recovery post-workout

Enhances endurance during tough workouts