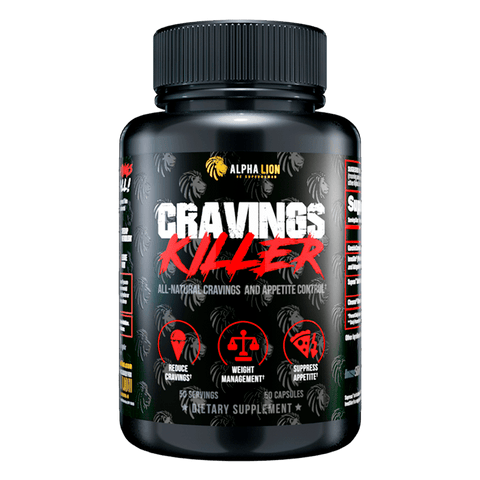 Alpha Lion
Cravings Killer - Alpha Lion (50 Caps)
$39.95
$54.99
you save $15.04
Cravings Killer 
Conquer Your Cravings with Cravings Killer by Alpha Lion!
Are you tired of battling relentless cravings that sabotage your healthy eating goals? Say goodbye to those temptations and regain control with Cravings Killer by Alpha Lion. This powerful formula is designed to help suppress cravings, promote satiety, and support your weight management journey.
Key Ingredients and Benefits:
Garcinia Cambogia Extract 250mg: Derived from the tropical fruit Garcinia cambogia, this extract contains hydroxycitric acid (HCA) known for its appetite-suppressing properties. It helps curb cravings and supports healthy weight management.
Innoslim 125mg: A scientifically formulated blend of Panax notoginseng and Astragalus membranaceus extracts. Innoslim helps promote healthy blood sugar levels, reduces food cravings, and supports overall metabolic wellness.
Supresa Saffron Extract 88.25mg: Sourced from the vibrant red stigmas of the Crocus sativus flower, saffron extract has been traditionally used to support mood and curb emotional eating. It may also contribute to feelings of fullness and satisfaction.
Chromax Chromium Picolinate 100mcg: This essential mineral plays a crucial role in carbohydrate and lipid metabolism. By promoting healthy insulin function, chromium picolinate helps regulate blood sugar levels and may reduce cravings for sugar and carbs.
Cravings Killer by Alpha Lion provides you with the tools to help conquer your food cravings and make smarter choices. This scientifically formulated blend of natural ingredients supports a balanced appetite and helps you stay on track with your nutrition goals.
Experience the freedom from constant cravings and take control of your journey towards a healthier lifestyle. Let Alpha Lion be your partner in achieving your weight management goals with Cravings Killer.
*These statements have not been evaluated by the Food and Drug Administration. This product is not intended to diagnose, treat, cure, or prevent any disease.