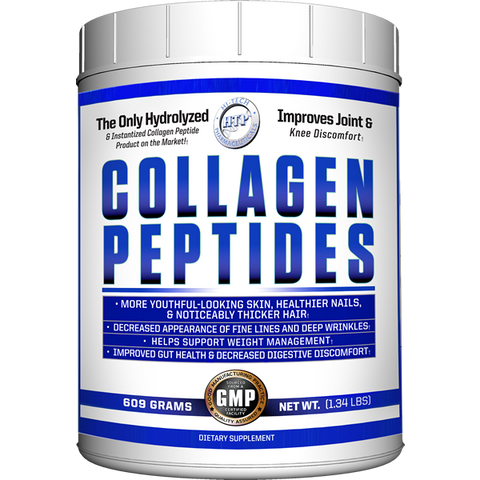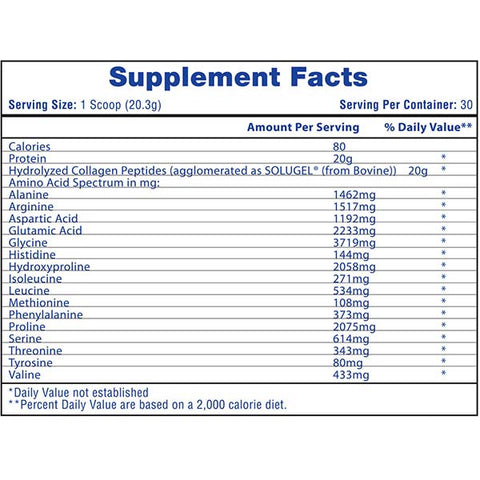 Hi Tech Pharmaceuticals
Collagen Peptides - Hi Tech Pharmaceuticals (30 srvs)
$49.95
$49.99
you save $0.04
Collagen Peptides - Hi Tech Pharmaceuticals
Collagen is the most abundant protein in your body, providing structure, strength, and support. It is the main component of connective tissues that make body parts, including the tendons, ligaments, skin, and muscles.
Collagen Peptides by Hi-Tech Pharmaceuticals utilizes 20 grams of high-quality, grass-fed, Type I and Type III collagen. They have utilized SOLUGEL® collagen peptides, which is an instantized and advanced hydrolyzed collagen peptide formula. SOLUGEL® collagen peptides have been clinically proven and are produced from a controlled process that strives for consistent, premium quality.
 This premium collagen formula promotes optimal absorption and potency, allowing it to rebuild joint strength, support skin health, improve the appearance of youthful skin, thicker hair, stronger nails, smooth digestion, and more.
[Link to study supporting

SOLUG

EL

® 

Claims]
Collagen Peptides contain amino acids and are enzymatically formulated for support enhanced bioavailability and absorption. This collagen formula is ideal if you're trying to support your skin's elasticity, firmness, and hydration. It may help improve any joint & knee discomfort and is a fantastic source of protein if you're looking to manage your weight.
May Help Support:
Joints & knees 

Healthier hair, nails & skin

Weight management

Gut health
The information provided on this website and in our product descriptions is for informational purposes only and should not be considered medical advice. Our products have not been evaluated by the FDA and are not intended to diagnose, treat, cure, or prevent any disease. Individual results may vary. Always consult a healthcare professional before using any supplements, especially if you have allergies or medical conditions. Use our products at your own risk, and discontinue use if you experience any adverse reactions. By using our website or products, you agree that ASN USA is not liable for any damages or losses. We reserve the right to update information without prior notice.