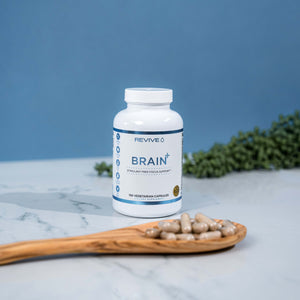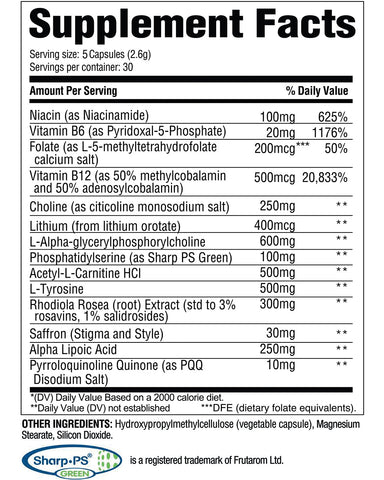 Revive MD
Brain - Revive MD (150 veg caps)
$39.00
$45.99
you save $6.99
Revive Brian+ - Supports Mental Clarity, Promotes Neural Processing, Promotes a Sense Of Wellbeing
Support mental clarity and focus
May promote neural processing
May promote a general sense of wellbeing

Unlike many all-in-one brain-targeted supplements on the market, Brain+ was designed as a stimulant-free way of providing all-day mental clarity and focus. Brain+ contains nutrients that support continuous brain functions, provide a substrate for the synthesis of important brain chemicals involved in motivation and learning, boost the sense of well-being and stabilize mood, act as antioxidants in the brain, and promote cellular brain health.
Lab Tested
Doctor Formulated
No Fillers
Natural Ingredients
Promote natural focus & clarity

The human brain is the command center that enables thoughts, memory, movement, and emotions. Maintaining these functions through life is of critical importance for the health of the brain, but also for performance in activities of daily living and quality of life. Brain+ was designed as a stimulant-free, comprehensive product to support general brain health, improved focus, and overall sense of well-being (i.e., improved mood).
Key Ingredients

Choline
Choline has a critical role in neurotransmitter function because of its impact on acetylcholine and dopaminergic function. Studies in animals suggest that CDP-choline supplements increase dopamine receptor densities and can ameliorate memory impairment.
Lithium
Lithium shields neurons from biological stress and toxins. In most experimental studies, lithium, in therapeutic doses, exerts a favorable influence on various cognitive functions.
Alpha GPC 50
Alpha-GPC is a choline-containing supplement that boosts acetylcholine in the brain and protects the nerves. It may help with age-related cognitive decline. Younger people also use it to enhance cognition, but its nootropic effects are not well-researched.
Legal Disclaimer 
The information provided on this website and in our product descriptions is for informational purposes only and should not be considered medical advice. Our products have not been evaluated by the FDA and are not intended to diagnose, treat, cure, or prevent any disease. Individual results may vary. Always consult a healthcare professional before using any supplements, especially if you have allergies or medical conditions. Use our products at your own risk, and discontinue use if you experience any adverse reactions. By using our website or products, you agree that ASN USA is not liable for any damages or losses. We reserve the right to update information without prior notice.