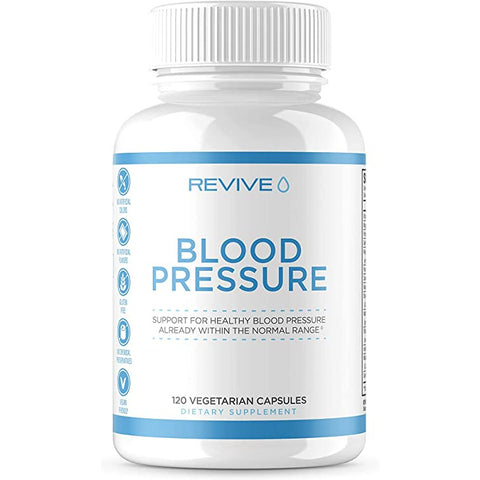 Revive MD
Blood Pressure - Revive MD (120 Caps)
$42.39
$49.99
you save $7.60
Description
High blood pressure is one of the most important risk factors when it comes to cardiovascular disease, which can contribute to numerous health problems. Blood Pressure from Revive MD includes a formula that is made up of natural vitamins and herbs that provide nutritional support for healthy blood pressure levels already within a normal range. The formula includes a combination of; Arjuna (Rejuna), Coenzyme Q10, Garlic, Suntheanine, and a complete profile of herbs that offer blood pressure & cardiovascular support. Daily use of this supplement, provides users with benefits that may help to improve cardiac wellness and maintain already healthy blood pressure levels. 
Benefits
Maintains Already Health Blood Pressure Levels
Supports the Cardiovascular System
May Help Promotes Healthy Vascular Function
May Help Supports Cardiac Wellness
Lab Tested
Doctor Formulated
No Fillers
Natural Ingredients
Legal Disclaimer 
The information provided on this website and in our product descriptions is for informational purposes only and should not be considered medical advice. Our products have not been evaluated by the FDA and are not intended to diagnose, treat, cure, or prevent any disease. Individual results may vary. Always consult a healthcare professional before using any supplements, especially if you have allergies or medical conditions. Use our products at your own risk, and discontinue use if you experience any adverse reactions. By using our website or products, you agree that ASN USA is not liable for any damages or losses. We reserve the right to update information without prior notice.