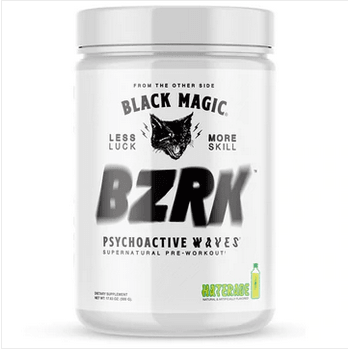 Black Magic Supply
BZRK Pre Workout - Black Magic Supply (25 srvs)
Description 
Get ready to unleash the ultimate intensity with BZRK Pre Workout by Black Magic Supply. This cutting-edge formula is designed to take your workouts to new heights, delivering explosive energy, laser focus, and unmatched performance. With a powerful combination of scientifically dosed ingredients, BZRK Pre Workout will push your limits and shatter plateaus like never before.
Key Ingredients and Benefits:
Beta-Alanine: May help support muscular endurance and reduces fatigue, allowing you to push harder and longer during intense workouts.
Citrulline Malate: May help support increases nitric oxide production, promoting improved blood flow and delivering a powerful muscle pump.
N-Acetyl L-Tyrosine: May help support to mental focus, concentration, and cognitive function, helping you stay in the zone and maximize your performance.
Caffeine Anhydrous: Provides a surge of energy, increases alertness, and enhances overall workout intensity.
Theobromine: May help support energy levels, cardiovascular health, and mood and motivation.
Huperzine A: May help support  memory, focus, and mind-muscle connection, allowing you to stay dialed in throughout your workout.
Who Can Benefit from BZRK Pre-Workout:
Fitness Enthusiasts: Whether you're a beginner or an experienced athlete, BZRK Pre Workout may help support you elevate your workouts and achieve your fitness goals.
Weightlifters and Bodybuilders: With its potent blend of ingredients, BZRK Pre Workout may help support enhance strength, power, and muscle pumps, making it perfect for those seeking to build lean muscle mass.
Individuals Seeking Focus and Energy: BZRK Pre Workout is great for anyone looking for an intense burst of energy
Legal Disclaimer These statements have not yet been evaluated by the United States Food and Drug Administration. This product is not intended to diagnose, treat, cure, or prevent any disease. Statements regarding dietary supplements have not been evaluated by the FDA and are not intended to diagnose, treat, cure, or prevent any disease or health condition.