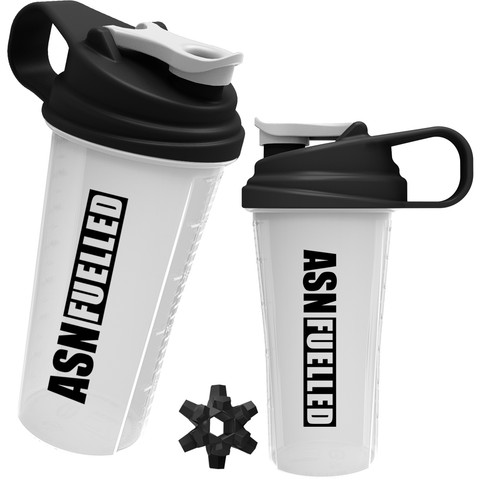 ASN
ASN Shaker Bottle
Description
Your Perfect Workout Companion!
The ASN Shaker Bottle is a must-have accessory for every fitness enthusiast. Whether you're hitting the gym, going for a run, or staying hydrated throughout the day, this shaker bottle is designed to meet your needs. With its high-quality construction and convenient features, the ASN Shaker Bottle makes mixing and enjoying your favorite beverages effortless and enjoyable.
Key Features:
Leak-Proof Design: The ASN Shaker Bottle is equipped with a secure screw-on lid and a tight-sealing flip cap, ensuring leak-free transportation and storage of your drinks.

Convenient Mixing Mechanism: The built-in mixing ball or wire whisk helps blend your protein powder, pre-workout, or other supplements with liquids, ensuring a smooth and clump-free consistency.

Easy-to-Read Measurement Markings: The bottle features clear measurement markings in both milliliters and ounces, allowing you to accurately measure and track your liquid intake or mix your supplements to the desired level.

Ergonomic Design: The ASN Shaker Bottle is designed with a comfortable grip and a wide-mouth opening for easy filling, cleaning, and drinking on the go.

Durable and BPA-Free: Made from high-quality, BPA-free materials, the ASN Shaker Bottle is built to withstand rigorous use and is safe for everyday use.

Versatile and Portable: With its compact size and convenient carrying loop, the ASN Shaker Bottle fits easily in your gym bag, backpack, or car cup holder, making it the perfect companion for your active lifestyle.
Experience the convenience and functionality of the ASN Shaker Bottle. Whether you're mixing protein shakes, energy drinks, or other beverages, this shaker bottle is designed to make your fitness journey more enjoyable and convenient. Order your ASN Shaker Bottle today and take your hydration and supplementation to the next level!