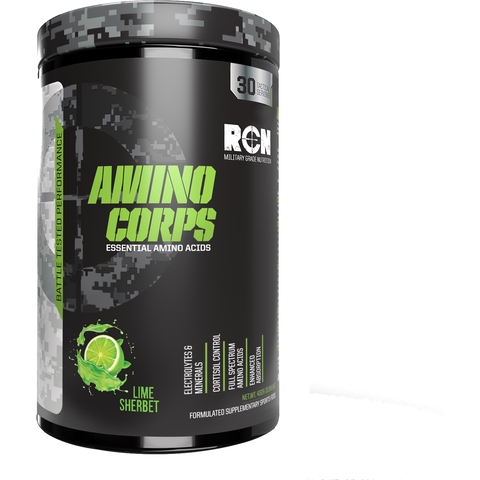 RCN Nutrition
Amino Corps - RCN Nutrition (30 srvs)
RCN Amino Corps Description
Is your recovery holding you back from smashing your fitness goals? Is your body taking longer to bounce back after a hard-hitting workout? Then it's time to enhance your recovery with a military-grade repair formula from RCN, Amino Corps! 
Key Features
EAA/BCAA complex

Supports hydration 

84 essential minerals

May help support reducing cortisol levels

Recovery matrix

Contains clinically researched, trademarked ingredients
Benefits
RCN has paved the way with its game-changing formula, Amino Corps, when it comes to high-performance training and quality recovery. Say goodbye to muscle soreness and wastage and hello to muscle growth, better endurance, increased strength, and quality recovery!
If you're as serious about your results as you are about your recovery, then it's time to level up and make the switch to a full spectrum EAA/BCAA recovery matrix. Optimise muscle protein synthesis, muscle growth, strength, and recovery with a generous dose of clinically-substantiated Amino9® EAAs and additional InstAminos® BCAAs. As a pre-digested form of protein, EAAs offer a fast absorption rate, which means more efficient results and reduced downtime. To help lower cortisol levels (stress hormones) and boost testosterone, endurance, strength, and muscle recovery rate, the groundbreaking and clinically-proven ingredient, KSM-66 Ashwagandha, has been included. Amino Corps has been loaded with electrolytes and minerals to support hydration, nerve function, muscle contraction, and nutrient uptake to promote faster recovery. To complete this killer formula, AstraGin™ has been added to further enhance the absorption of amino acids by up to 43%, improve ATP by up to 18% and increase insulin sensitivity by up to 38%. 
Legal Disclaimer 
The information provided on this website and in our product descriptions is for informational purposes only and should not be considered medical advice. Our products have not been evaluated by the FDA and are not intended to diagnose, treat, cure, or prevent any disease. Individual results may vary. Always consult a healthcare professional before using any supplements, especially if you have allergies or medical conditions. Use our products at your own risk, and discontinue use if you experience any adverse reactions. By using our website or products, you agree that ASN USA is not liable for any damages or losses. We reserve the right to update information without prior notice.