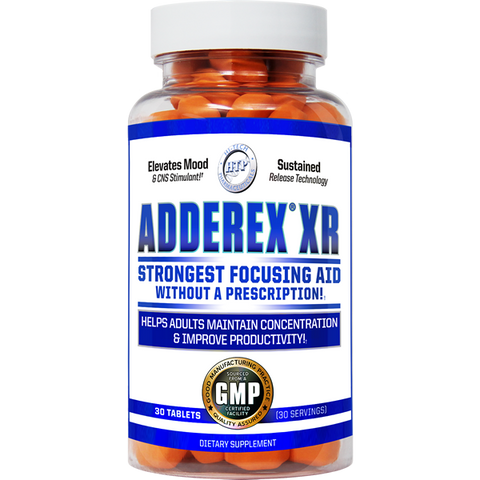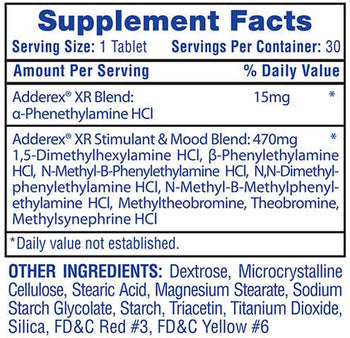 Hi Tech Pharmaceuticals
Adderex® XR - Hi tech (30 tabs)
$59.95
$79.95
you save $20.00
Description
Enhance Your Focus with Hi-Tech Pharmaceuticals Adderex-XR: Unleash Your Mental Potential
Have you ever experienced those moments when staying on task becomes an uphill battle? When your mind seems determined to wander, making it challenging to concentrate on work, school, or daily activities? If you've been seeking a solution to this common occurrence, look no further than Adderex-XR from Hi-Tech Pharmaceuticals. It's your non-prescription ticket to unwavering focus and enhanced cognitive performance.
Why Adderex-XR Stands Out:
The Ultimate Focus Aid: Adderex-XR is your strongest ally when it comes to maintaining alertness, improving memory, and honing your focus on the task at hand.

Ideal for Students: If you're a student, Adderex-XR offers the added advantage of improving memory and learning skills while keeping you focused. It's a comprehensive cognitive function enhancer.

Psycho-Nutraceutical Agents and Nootropics: Adderex-XR boasts a potent blend of psycho-nutraceutical agents and nootropics. This unique combination ensures you remain focused and composed throughout the day.

Don't wait any longer to unlock your full mental potential. Try Hi-Tech Pharmaceuticals Adderex-XR and experience the benefits of heightened focus, improved memory, and enhanced cognitive performance. You'll wish you had discovered this remarkable supplement sooner!
Hi-Tech Pharmaceuticals Adderex-XR Side Effects
Not for individuals that are pregnant or nursing. This product can cause central nervous stimulation and should not be used by people with heart disease, have high blood pressure, thyroid disease, or diabetes without consulting a physician. Discontinue or reduce use if nervousness, rapid pulse, dizziness, nausea, palpitations, or sleeplessness occur. In case of accidental overdose, seek professional assistance or contact a poison control center immediately. Avoid alcohol while taking this product. Do not exceed recommended serving. Exceeding recommended serving may cause serious adverse health effects, including heart attack or stroke. Discontinue use and call a physician or licensed qualified health care professional immediately if you experience rapid heartbeat, dizziness, severe headache, shortness of breath, or other similar symptoms. Improper use of this product may be hazardous to a person's health. Exceeding recommended serving will not improve results. Consult with your physician prior to use if you have a medical condition including, but not limited to, heart, liver, kidney or thyroid disease, psychiatric or epileptic disorders, difficulty urinating, diabetes, high blood pressure, cardiac arrhythmia, recurrent headaches, enlarged prostate or glaucoma. Consult with your physician prior to use if you are taking medications such as MAOI inhibitors, antidepressants, aspirin, nonsteroidal anti-inflammatory drugs, or products containing phenylephrine, ephedrine, pseudoephedrine, or other stimulants. Discontinue use two weeks prior to surgery.
The information provided on this website and in our product descriptions is for informational purposes only and should not be considered medical advice. Our products have not been evaluated by the FDA and are not intended to diagnose, treat, cure, or prevent any disease. Individual results may vary. Always consult a healthcare professional before using any supplements, especially if you have allergies or medical conditions. Use our products at your own risk, and discontinue use if you experience any adverse reactions. By using our website or products, you agree that ASN USA is not liable for any damages or losses. We reserve the right to update information without prior notice.