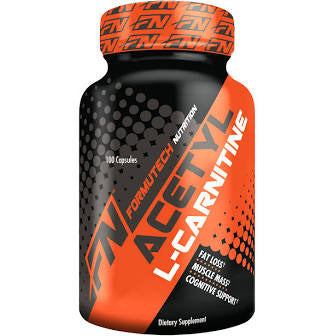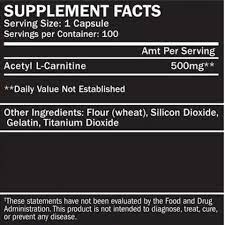 Formutech Nutrition
Acetyl L-Carnitine 500mg - Formutech Nutrition (100 Caps)
Description
Formutech Nutrition Acetyl L-Carnitine | Immune Support
Acetyl L-Carnitine is a modified amino acid that promotes cellular energy production by assisting in the transport of fat into the mitochondria where it is oxidized and converted into ATP (chemical energy for the cell). Also has been found to be Neuroprotective and can be used to increase focus.
Formutech Nutrition Acetyl L-Carnitine Benefits
May help Supports a healthy stress response and promotes a healthy heart.
may help Support the body with important, essential amino acids necessary for energy production.
May help support a decrease protein glycation.
May help Supports memory and overall cognitive function.
May help support encourages metabolic function.
May help supports healthy aging
Vegetarian capsule
Formutech Nutrition Acetyl L-Carnitine Directions
Take 1 veggie capsule 1 to 3 times daily as needed.
 

Legal Disclaimer 
The information provided on this website and in our product descriptions is for informational purposes only and should not be considered medical advice. Our products have not been evaluated by the FDA and are not intended to diagnose, treat, cure, or prevent any disease. Individual results may vary. Always consult a healthcare professional before using any supplements, especially if you have allergies or medical conditions. Use our products at your own risk, and discontinue use if you experience any adverse reactions. By using our website or products, you agree that ASN USA is not liable for any damages or losses. We reserve the right to update information without prior notice.