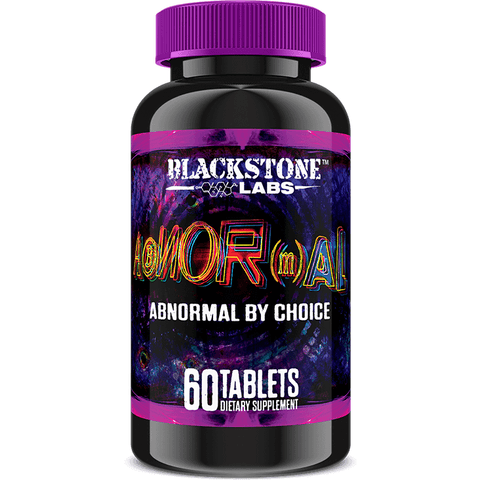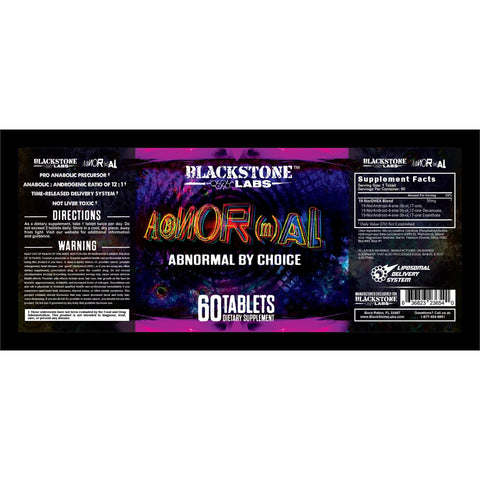 Blackstone Labs
Abnormal - Blackstone Labs (60 tablets)
$64.99
$89.99
you save $25.00
Description
Unleash Your Inner Beast and Embrace Abnormal Power with "Abnormal" by Blackstone Labs!

Prepare to venture into the extraordinary and redefine the limits of strength and muscle growth with the groundbreaking pre-workout formula, "Abnormal." Crafted by the masterminds at Blackstone Labs
Ignite the Fuse to may help support  Muscle Growth as "Abnormal" surges through your veins, priming your body for an unparalleled transformation. With its advanced blend of cutting-edge ingredients, this extraordinary formula works synergistically to optimize every aspect of your training and supercharge your gains like never before.
Feel the Thunderous Power of Abnormal as its proprietary blend floods your system. Featuring a fusion of muscle-building compounds, it's a force to be reckoned with. Enhanced with powerful prohormones and anabolic activators, this formula flips the switch on muscle synthesis, giving you the tools to sculpt a physique that commands respect.
Post Cycle Therapy
Blackstone Labs strongly recommends all users of AbNORmal to follow up their cycle with Post Cycle Therapy, or PCT. Following your cycle of AbNORmal with a PCT will help your body resume natural testosterone production, regenerate liver cells, and normalize hormone levels.
You should begin taking your PCT the day after you conclude your AbNORmal cycle and continue for 4 weeks. Skipping the PCT may result in hormonal imbalance as without a PCT it can take up to 1-4 weeks for your natural testosterone levels to return to normal and you may notice a loss of the majority of your gains and along with other undesirable side effects.
*Note: This product is intended for healthy adults seeking to enhance their performance and physique. Please consult with a healthcare professional before using if you have any medical conditions or are taking any medications. Keep out of reach of children.*
Legal Disclaimer These statements have not yet been evaluated by the United States Food and Drug Administration. This product is not intended to diagnose, treat, cure, or prevent any disease. Statements regarding dietary supplements have not been evaluated by the FDA and are not intended to diagnose, treat, cure, or prevent any disease or health condition.