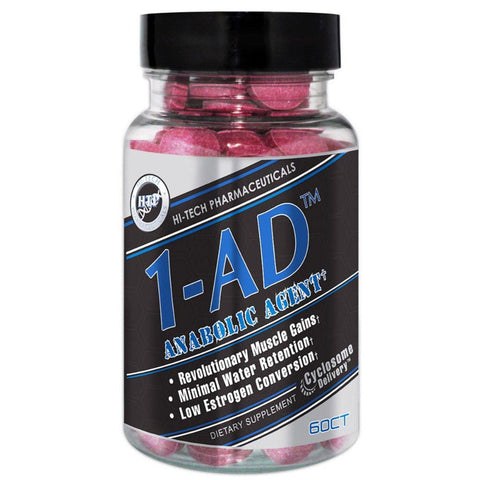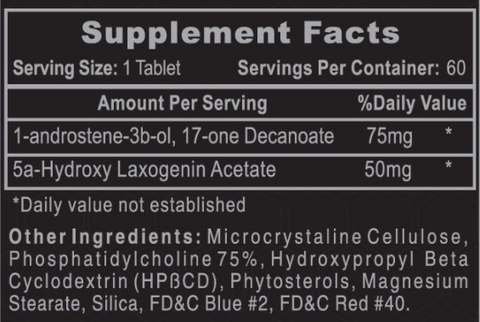 Hi Tech Pharmaceuticals
1 AD - Hi Tech Pharmaceuticals (60 tabs)
$59.99
$69.99
you save $10.00
Description 
Hi-Tech Pharmaceuticals 1-AD is a cutting-edge prohormone supplement designed to take your muscle gains and performance to new heights. Engineered with precision and backed by scientific research, this powerful formula is tailored for serious athletes and bodybuilders.
Key Ingredients and Benefits:
1-DHEA Blend: Hi-Tech Pharmaceuticals 1-AD contains a blend of ingredients including 1-DHEA. This compound is known for its anabolic properties, may promote lean muscle growth, may increased strength, and enhanced endurance. It works by converting into 1-testosterone in the body, a highly potent androgen responsible for muscle-building effects.
Muscle Mass and Strength: 1-AD is formulated to may help support you pack on lean muscle mass and experience explosive strength gains. It may help support protein synthesis
Enhanced Performance: Elevate your performance to extraordinary levels with Hi-Tech Pharmaceuticals 1-AD. This supplement may help supports improved athletic performance, providing you with the stamina and endurance needed to push through intense workouts and conquer your fitness goals. 
Reduced Estrogen Conversion: One of the features of Hi-Tech Pharmaceuticals 1-AD may help support minimizing estrogen conversion. 


*KEEP OUT OF REACH OF CHILDREN. This product is intended for adult men only. Not for use by women or anyone under 21 years of age. If you have or have had a medical condition or are currently using prescription drugs consult your physician before using this product. Avoid this product if you have any previous history of medical dysfunction or disease, including but not limited to high blood pressure, heart, kidney, thyroid, or psychiatric disease, difficulty urinating, prostate enlargement, anxiety, depression, seizure disorder, or have had a stroke. Do not combine this product with other medications or supplements. Do not exceed the suggested servings. Consult your healthcare professional before use if you are taking any prescription drugs.*